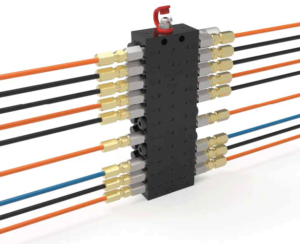 Graco, a leading manufacturer of fluid handling equipment, recently announced the launch of their refreshed line of EZ Greaser™ compact lubrication flow divider valves. The EZ Greaser assemblies are ideal for adding centralized lubrication to trucks, tractors and trailers. With EZ Greaser, users can ensure no grease points are overlooked while they safely and easily grease many points from one fitting. This also shortens the amount of time required for greasing. The EZ Greaser assemblies are compact and cost-effective, suitable for tight spaces where weight matters.
Based on Graco's CSP technology, there are 17 assembly variations available, which are compatible with most on-road truck and tractor configurations. All assemblies are 30% lighter than the previous generation. The assembly is easy to upgrade to a fully-automatic lubrication system by adding a pump like Graco's G-Mini™ or air-powered E-series.
Features
Customizable Configurations
Options include divider valves with pre-assembled tubes and fittings to lube points
CSP Divider Valve
Meters the amount of grease going to lube points
Standard Adapter
Zerk fitting accepts standard grease gun
Positive Lube Cycle Indication
Quickly ensure the proper amount of lubricant is used by checking the Cycle Indicator Pin
Color-Coded Tubing
For simple installation and maintenance
NLGI #2 Grease Compatible
Automatic lubrication system can be used with oil or grease up to NGLI #2
Extend Vehicle Life
Manual greasing is made easy with a customizable, metered distribution system from Graco. The durable and reliable EZ Greaser™ automatic lubrication system is ideally suited for customized tractor and trailer lubrication.

Reduced lubrication access points result in faster, more cost-effective maintenance
Durable design can withstand harsh elements and a lot of punishment
Add a Graco automatic lubrication pump to increase value of system
Request more info today!
Please fill out the form, give us a call or send us an

e-mail

. We can't wait to hear from you!
248-373-1600