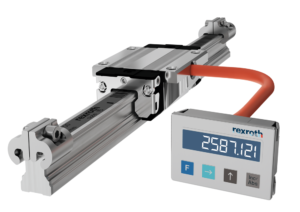 The IMScompact from Bosch Rexroth features a fully integrated measuring system in the runner block, saving users critical time and money. The IMScompact is designed for handling tasks in automation where extremely high precision is not necessary. It is a compact way to guide, measure, and construct. Determine exact positions with a high repetition accuracy of +µm with the IMScompact. The IMScompact is available in sizes 15, 20, and 25, which is ideal for smaller machines. The dimensions are the same as the standard system, with the exception of the cable, which makes the IMScompact easy to integrate into existing designs.
IMScompact Features
The IMScompact has magnetic tape adhered along the linear guide, allowing it to determine the exact position of the runner block with noncontact measurement. With a contactless measuring principle, the sensor is wear-free and protected from oil and grease. The IMScompact determines position with an absolute precision of +20 µm and a repetition accuracy of +1 µm at speeds up to 5 m/s.
This exceptionally durable solution can withstand dust, impact, and vibrations. The runner block's steel body shields the integrated encoded from magnetic interference, which allows it to provide exact values even with linear motors. The robust IMScompact has circumferential gaskets for protection against dirt and media.
The completely integrated system is quick to commission and easy to mount, thanks to the use of standard components. The intelligently designed system uses fewer components and requires less space, which lowers costs. It is a flexible solution, allowing for future retrofits and adjustments where needed. Bosch Rexroth's essential product characteristics of interchangeable design, modularity, robustness and easy assembly are applied in the IMScompact design.
IMScompact Technical Data
Repeatability: ±1 μm
System accuracy: ±20 μm/m
Voltage supply: 10 … 30 V
Incremental: 1Vpp (1_mm) and TTL (10 μm) with reference track, pitch-coded
Highly dynamic: up to 5 m/s
Measuring length: up to 17.8 m