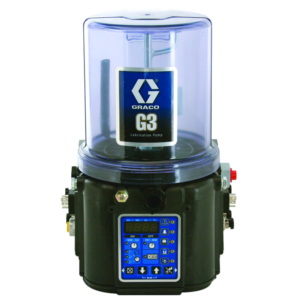 The G3 electric lubrication pump from Graco is a robust, cost-effective solution designed to serve several applications. The series has a flexible design with five reservoir sizes, three controller options, three power types, and an adjustable pump element. The G3 works with injector-based and series progressive systems, even in the harshest conditions. Users can extend their machinery life and reduce operating costs after integrating a G3 pump into their system.
G3 Electric Lubrication Pump Features
The G3 electric lubrication pump is built with advanced flow dynamics. The contoured base guides grease into the pump inlet, reducing stagnant flow areas where fluid can accumulate. The piston pump element is offset from the primary motor shaft, which lessens the stress on the motor and other internal components. The G3 is also adjustable, saving users from purchasing additional fixed output or adjustable elements.
The G3 series is equipped with a Data Management System (DMS) that allows for simple data transfer to your PC via a USB flash drive. DMS provides important performance history, such as cycle detection and error logs. It also enables users to store and transfer lube cycle programs from one pump to another for quick repeatability.
The Graco G3 electric lubrication pump series is versatile with the sizes and options you need for your application. Users can choose from 2, 4, 8, 12, or 16 liter UV resistant, high-impact reservoirs for oil and grease to meet their application needs. Two reservoir types are available: One has a stirring paddle with a wiper arm to stop material from separating, and the other includes a follower plate for extreme angle installations. Users also have different power choices with DC (12 or 24v) and AC (90-240v) connectivity with CPC or DIN-style connectors for easy installation.
The G3 has one adjustable pump element installed, but users can add up to two more to allow higher output. With the G3, users can create custom installations with up to three cycle and pressure switches. The G3 electric lubrication pump series has three controller options: standard, pro, and max, each offering a different level of system control.