The Palletizer Station is a flexible solution for parts storage and introduction into an assembly line. A gripper moves along an "H" style gantry composed of Bosch Rexroth linear modules. The Palletizer Station uses SICK components for part detection and safety throughout the station. Bosch Rexroth belt modules and electric motors power the gripper movement along the axis. This station also features Bosch Rexroth's Robotics Function Toolkit. Our engineering team at Morrell Group intricately programmed each Palletizer Station component to move on time with precision.
The SICK H18 photoelectric sensors identify when the product is in place and ready for pickup. Its signal strength bar is intuitive and easy to view, simplifying installation and troubleshooting.
As compressed air flows through the machine, an AVENTICS HF03 valve manifold system supplies the pressure for the gripper to move. The HF03 pneumatic directional control valve manifold system produces high flow in a compact package with low power consumption. Its plug-in design supports fast valve change-out. The HF03 has a lightweight polymer design, making it easy to mount for many applications.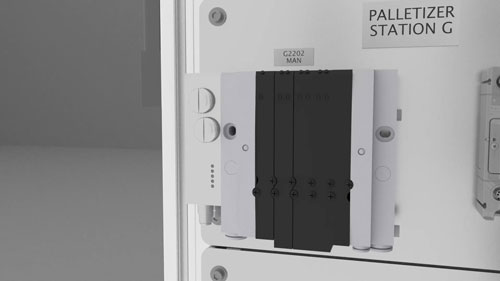 The gripper moves along an "H" style gantry composed of three Bosch Rexroth Linear Belt Modules. MKR20-80 belt modules and an MS2N motor control the x-axis movement. The MKR20-80 linear modules have a compact, anodized aluminum frame and are ideal for demanding speed and load requirements. A CKR-15-110 belt module and an MS2N motor control the y-axis movement, and an OBB-055 omega module controls the z-axis movement. The CKR-15-110 includes a toothed belt drive capable of supporting high thrust forces over long lengths. The OBB omega modules have tooth belt drives and are available with planetary or angular planetary gearboxes.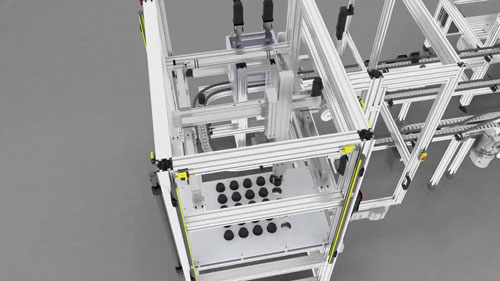 IndraDrive Cs servo drives control all axis movement. An IndraControl XM21 controls the gantry movement and a VH2110 Mobile Pendant HMI. The Mobile Pendant HMI is programmed with IndraWorks utilizing Bosch Rexroth's Robotics Function Tool Kit, which allows for single-function blow control of three-axis Cartesian systems.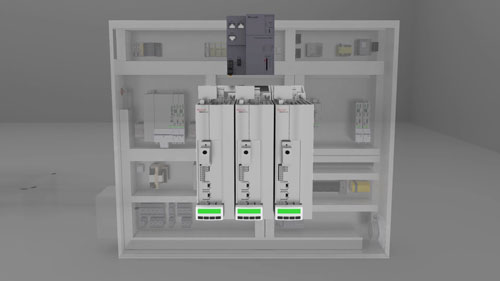 SICK deTec4 Core Safety Light Curtains stop the machine if anything crosses its plane. The IO-Link capabilities of the deTec4 Core make cost-effective system designs possible. Intelligent technologies provide data for comprehensive diagnosis, fast installation, and performing automation functions. All functions can be configured without software.
SICK Safety Switches stop the machine if the door is opened. The switches provide intelligent, non-contact door monitoring with effective tamper protection. The switches have monitored semiconductor outputs (OSSD), so they can be directly connected to safety controllers. They have a response range of up to 25 mm and an enclosure rating of IP69K.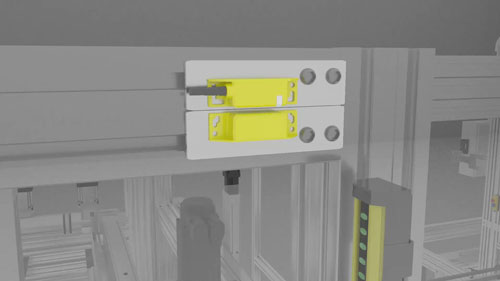 A SICK E-Stop button halts machine operations when pressed. The reliable and safe emergency stop buttons have an optional reset pushbutton and LED illumination. The E-Stop button has a low-profile plastic housing with a quick disconnect mounting clip. The button is Flexi Loop compatible and has an M12 plug connector.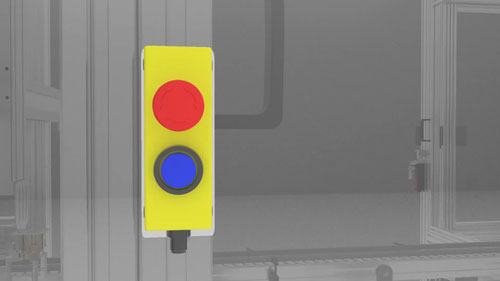 All of the safety components are tied to SICK's Flexi Loop system, which decreases the wiring needed loop back to the control panel. Instead of individually wiring every component to the control panel, components can be daisy-chained with Flexi Loop. By connecting safety switches and sensors with OSSD outputs in a series, you can significantly decrease the amount of wiring used.
Collaborate with us on your automation solution.
It's easy. Fill out the form, give us a call, or send us an

email

.
More Morrell Automation Demo Solutions