When energy efficiency and operator conditions are at the forefront of manufacturing considerations, Morrell Group's Sytronix units are perfectly suited to meet your application demands. The variable-speed pump drive design results in lower noise emissions and energy consumption, along with a reduction in operating costs and machine size.
Sytronix units consist of electric motors, hydraulic pumps, and frequency converters to maximize potential energy and noise savings at an attractive cost. The combination of hydraulics and electrical drives allows the motor speeds to be continuously adjusted to match the machine's requirements. When the process requires less than full performance, the pump's drive speed is lowered to a more energy-efficiency level.
Sytronix units are built for optimum efficiency, particularly in pressure-holding operations, where the power required is significantly reduced. Adjustable pump displacement allows for a smaller electric motor, saving on investment costs and valuable factory floor space.
Engineering Partners Ahead of the Curve
Morrell Group prioritizes staying on top of cutting-edge technology, including using variable-speed drives and hybrid electric/hydraulic solutions. As an Engineering Partner, Systems Integrator, and Value-Added Distributor (ESV), Morrell Group supports your team from concept to completion. We work as an extension of your team, offering our industry and application knowledge to assist in your new system's engineering and commissioning process. Our long-term relationship with Bosch Rexroth means we intimately understand Sytronix technology. We leverage this proficiency to assist in the concept, engineering, and startup of our Sytronix power units.
Sytronix Features
Custom Sytronix solutions are available in addition to the pre-configured systems FcP, DRn, DFEn, and SvP. All Sytronix configurations have an integrated pump guard function to extend the component life cycle and prevent machine standstill. They all support standard multi-Ethernet communication protocols for easy integration.
FcP
Nominal power: 0.25 to 18.5 kW (0.3 to 25 hp)

Ideal for applications with pressure control systems

Internal gear pump results in particularly low operating noise
DRn 5020
Nominal power: up to 160 kW (200 hp)

Suitable for higher-performance pressure control systems and retrofit opportunities

Motor auto-tuning feature
SY(H)DFEn
Nominal power: up to 315 kW (420 hp)

Ideal for pressure and flow control in open hydraulic systems with hydraulic actuator(s)

Direct energy coupling and mechanical feedback via the pump
SvP
Nominal power: up to 80 kW (100 hp)

Ideal for axis control in open and closed hydraulic systems

Enhanced energy, condition monitoring, and predictive maintenance functions
Sytronix Benefits
Reduced energy consumption

Lower noise emissions

Reduced cooling efforts

Less downtime
More Hydraulic Power Unit Solutions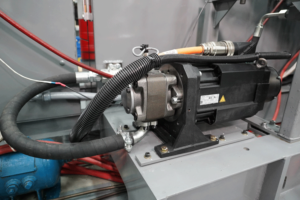 Learn how one plastic injection molding company saw energy savings of 93% after integrating a Sytronix unit with Morrell Group.