Every reservoir tank on mobile and off-highway machinery can be optimized to reduce tank size, decrease costs for OEMs and end customers, and increase energy efficiency. With HYDAC tank reservoir optimization solutions, applications become more reliable with less needed materials, smaller oil volume, and additional engine space - all while maintaining lower emissions and environmental friendliness. With in-to-out filtration, integrated deaeration windows, and various designs available, tank reservoir optimization is flexible and reliable.
Optimization Solutions
Tank Reservoir Optimization Features
HYDAC offers a standard product range for oil reservoir tank optimization. Reducing reservoir tank size and stabilizing oil sloshing improves reliability and efficiency.
In-to-Out Filtration
An upstream flow from the bottom to an outlet at the top close to the oil surface allows for low outlet velocity and minimizes turbulence in the oil reservoir tank. Low velocity and little turbulence create smooth oil blending.
Integrated Deaeration Windows
The guidance of the flow above the oil level allows air bubbles to coalesce, ensuring seamless deaeration of air in the oil tank reservoir.
Flow Designs
Flow designs come in standard filter solutions with upstream flow from the bottom or upstream flow from the side. Customized solutions are also available.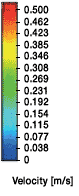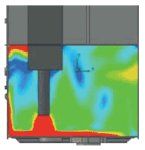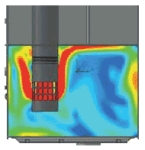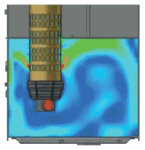 Air-X Technology for Oil Tank Optimization
HYDAC Air-X technology optimizes oil tank reservoirs by 30 to 40% and reduces CO2 emissions in mobile machinery, such as wheel loaders and excavators. Air-X technology reduces complexity and material use, which in turn saves costs. Air-X improves air separation to reduce tank size, which requires an advanced filtration strategy.
Air-X air separation and filtration:
Creates low discharge velocities
Reduces oil turbulence in the tank
Uniformly mixes the oil in the tank
Allows coalescence of air bubbles at the integrated deaeration window
RT Return Line Filter
Optimized Air Separation
HYDAC RT Return Line Filter is a tank reservoir solution focusing on flow and deaeration. An optimized filter and tank created advanced air separation in the tank reservoir.
The flow direction of in-to-out ensures the enclosure of contamination on the dirt side during element change. Installing magnetic cores also helps to lock away contaminants. The RT filter offers a large opening profile, so the oil flows more slowly toward the tank, which allows more time for air bubbles to rise and deaerate. The smooth and slow flow reduces splattering and creates a calm oil surface.
With an optimized flow direction of in-to-out, air bubble deaeration is improved. The fine filter material in the RT Filter causes the bubbles to be affected by the oil flow as they pass through the media filter. As they move through this innovative hydraulic filter, the small air bubbles fuse with the bigger ones. The increased size allows the air bubbles to rise and deaerate more quickly.
The HYDAC RT Return Line Filter comes in four variations with optional magnetic cores.
Optimize Your Mobile Tank Reservoirs Today!