Bosch Rexroth's MP1000R autonomous mobile robot (AMR) is a reliable and flexible alternative to manual forklifts that improves efficiency and reduces the risk of accidents and injury. With a payload capacity of 1000kg, the MP1000R automates material handling applications without external infrastructure as it automatically navigates highly dynamic environments. Morrell Group can help you with onsite MP1000R AMR integration and provides local service and support.
Reliability
The MP1000R, supported by SLAM and QR Code navigation, autonomously and accurately moves through your factory or warehouse. The hybrid navigation allows you to monitor the AMR's location in real-time so that you can trust its navigation skills. The 39Ah lithium battery runs continuously for at least eight hours, and 10 minutes of charging yields an hour of battery life. Autonomous opportunity charging prolongs battery life and uptime, so your robots are ready and available when needed.
Flexibility
The MP1000R provides great flexibility to material handling processes as it can lift a max payload of 1000kg on a rack or shelf base. It can also interface with your specific equipment using a square or roller top conveyor at custom heights. For example, this AMR can pick up and deliver components and finished goods between the warehouse and production line. Or, it can take on WIP movement within your production area.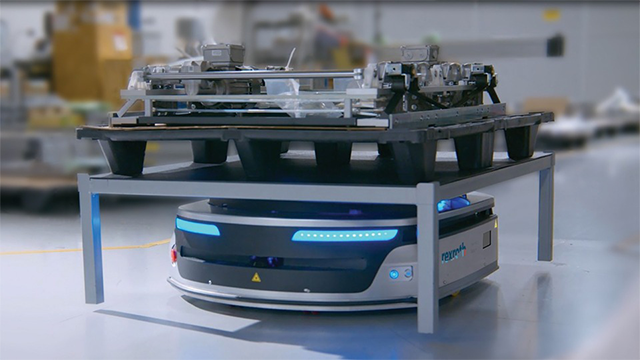 Safety
The MP1000R may reduce worker risk by autonomously transporting goods in place of a forklift. This AMR features 360-degree obstacle detection, so it knows how close it is to objects and people around it. It slows down as the front and rear E-Stop button sensors detect people and objects in a 1.3 meter range. Anti-collision bumpers on the front and back further reduce the risk of accidents with a side buffer range of 1,3000 mm to 300 mm - the AMR stops at 50 mm.
Stats
Bosch Rexroth AMRs can be deployed quickly, featuring a 2- to 4-week cycle for multiple robots. With a maximum lifting load of 1000 kg, it can travel up to 1.5 m/s, and it's 1090 mm long, 830 mm wide, and 275 mm wide. Short cycle times paired with efficient, adaptable, and smooth operating AMRs increase the possibility of ROI within a year.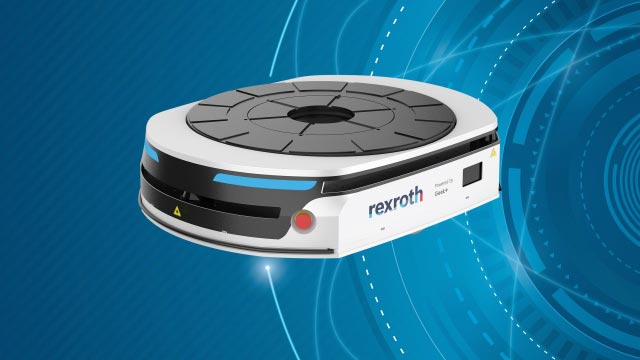 AMR Applications & Use Cases
With their exceptional reliability, flexibility, and safety, the MP1000R autonomous mobile robots are perfect for many applications and use cases to meet a variety of needs, including dense storage, flexible manufacturing, production line docking, production line feeding, warehouse moving, WIP management, supermarket, point of use, and materials feeding.
Dense Storage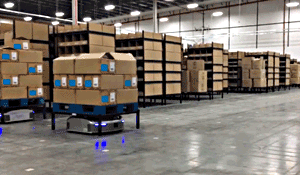 Flexible Manufacturing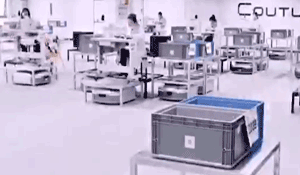 Production Line Docking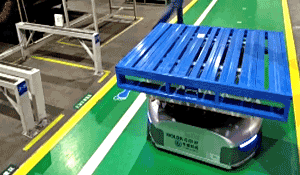 Production Line Feeding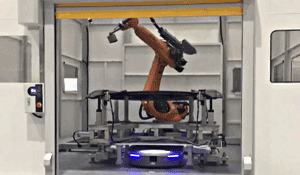 Warehouse Moving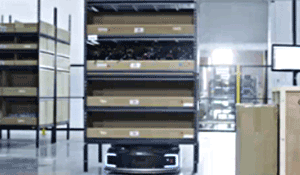 WIP Management
The MP1000R AMR uses Bosch Rexroth's ROKIT laser localization and mapping software to automatically map locations in your facility as it moves. The AMR sends all location information to a master map on your server, which other AMRs can access and utilize. This master map updates in real-time, marking pathways and locations of people and objects. The MP1000R requires WiFi to update the master map; lack of WiFi does not affect robot functionality. An independent WiFi network for the robots is available.
The fast and easy mapping setup features one-click mapping and an intuitive and revolutionary graphical user interface. No infrastructure adaptations or expert knowledge is needed for the MP1000R to navigate as necessary. With hybrid navigation possibilities, your Bosch Rexroth AMR can function with these three navigation solutions: SLAM, LiDAR/Sensor, & QR Code.

SLAM
Adds locations at sensor height to map
+/- 100mm precision
Requires zero infrastructure adaptation
Map is constantly updated as robot moves
LiDAR/Sensor
Adds locations at sensor height to map
+/- 100mm precision
Requires at least three visible reflectors
Sense unique and robust landmarks
QR Code
Adds locations to map via breadcrumbs
+/- 10mm precision
Requires one QR code/meter
Senses totally unique landmarks