As the electric vehicle industry continues to grow, so does the demand for a more efficient and reliable production process. As a result, manufacturers desire production-ready, end-of-line testing equipment for research and development. The Morrell Group Battery Cycling – DC Testing Solution provides clean DC voltage and highly dynamic current with a modular, future-proof design for your evolving testing needs. This custom solution utilizes industry-leading components from Bosch Rexroth to provide accurate DC voltage and current.
Modular Platform and Open Core Engineering
The modular platform and open-core engineering enable quick adaptation to changing application requirements, providing future cost savings. The Morrell Group Battery Cycling – DC Testing Solution is flexible in its configuration, allowing communication to any testing equipment. It can also supply multiple battery cyclers, simulators, and motor inverters by simply changing the power supply and adding inverters, which provide maximum flexibility while reducing spare parts and the power required overall, leading to additional cost savings.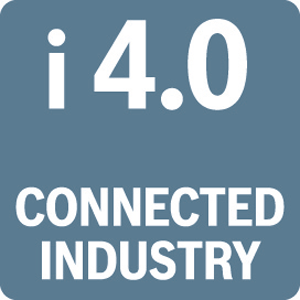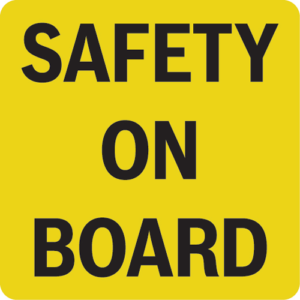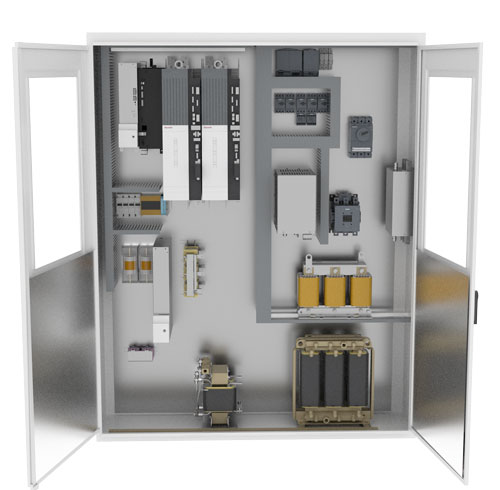 Turnkey Solution from Morrell Group
Because Morrell Group's Battery Cycling - DC Testing Solution is turnkey, it includes an intelligent cooling system and an isolation transformer. We offer several approved models according to CE and UL/CSA standards. Our panels undergo a hot test before shipment to ensure they meet our high quality and performance standards. Morrell Group also provides expert startup assistance and communications testing to ensure a smooth integration process.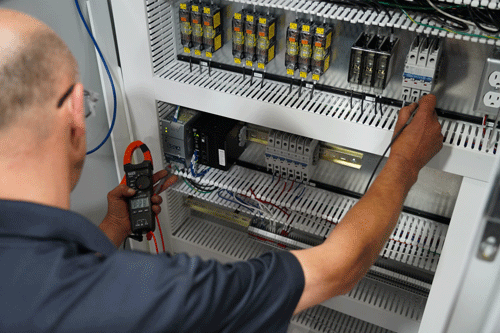 Key Features and Benefits
Best-in-class DC Voltage and Current Accuracy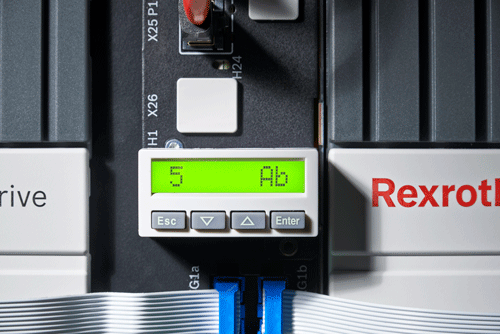 Superior DC voltage control and DC current regulation are made possible by Bosch Rexroth's innovative ML drive technology in a custom package to fit your application. The Morrell Group Battery Cycling – DC Testing Solution is a high-power density solution due to efficient cooling and high-quality filter components. Additionally, high PWM frequency is standard in all standard sizes.
Laminated bus bar technology keeps inductance extremely low
Wide Voltage Range: 380-500 V AC = 780V DC; 501-690 V AC = 1100V DC
Voltage ripple < ± 0.03%
Control Accuracy: Voltage - < ± 0.05%; Current - < ± 0.44%
Current ripple < ± 0.32 Arms
High-Quality Components and Construction Provide Exceptional Performance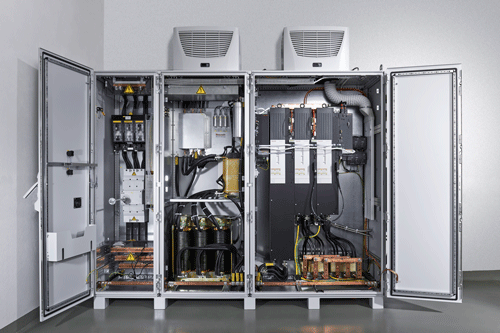 The Morrell Group Battery Cycling – DC Testing Solution is economical for simple, maximized performances for high-end servo applications. The innovative Bosch Rexroth components provide clean incoming power and superior DC bus voltage for common bussing of all axis. The choice between basic and advanced control units enables scalable performance and interface options.
Reduced electrical noise thanks to high-quality windings
Incredibly low EMC noise throughout the system
Very low voltage overshoots at the IGBT during switching
Compact and thoughtful layout to optimize space and further reduce EMC noise
Intelligent drive functions
Compact and Powerful Solution
The Morrell Group Battery Cycling – DC Testing Solution is the smallest high-power drive package on the market, while simultaneously being flexible and powerful enough to support individual and multiple stations. In addition to the intelligently designed components being naturally smaller, users can further decrease the size with our innovative cooling concepts. This testing solution also has the ability to support parallel power stacks, reducing the number of components required on the production floor.
Supports a wide voltage range: 380 - 500 V AC and 501 – 690 V AC
Cover a broad range of power supply needs up to 4 MW with standard components
Easily configurable for any application using standard industrial components
Decreased size with optional liquid cooling for drives and chokes (air cooling also available)
IndraDrive ML Size Comparison
EV Powertrain Tester and Dynamometer
Green power supply
High dynamic drive
Clean DC supply
Modular power conversion
Global AC grid supply

High-performance load and battery simulation<

Open standard control
Safe operation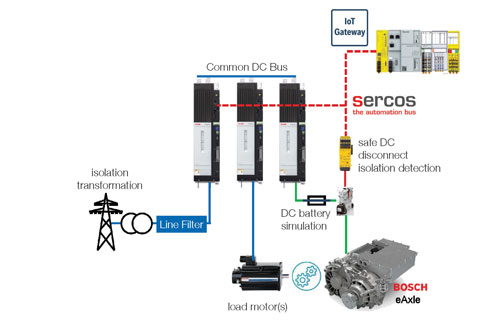 Battery Testing Unit
Identical power units<
Modular power conversion
Global AC grid supply
>Industrial PC battery interface
Open standard control
Safe operation
System Designed for Energy Savings
DC-bus Coupling
Solution utilizes a common DC bus for multiple axis coupling or an automation axis around a test system
Scalable solution for multi-axis applications
Energy exchange of drives which operates in generator and motor modes
Common use of central DC-bus components
Connection to smaller drives is also possible
Reduced energy consumption
Smaller size of the mains connection components – saving factory floor space
Cost and energy savings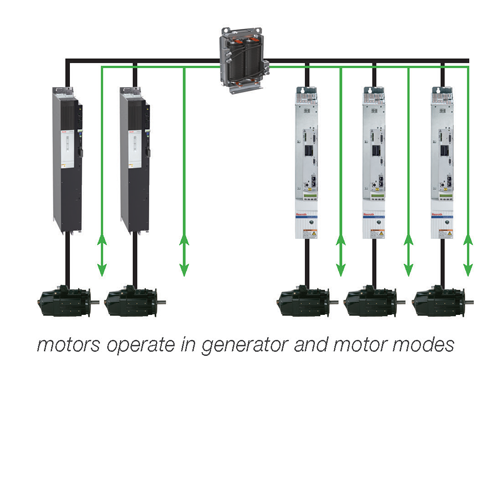 Electric Buffering
Various options of electric buffering to meet the demands of any system
Optimum adaptation to the application
Simple possibilities for passive buffering of excessive energy
DC-bus capacities up to 2.5 F loadable - up to 700 kJ energy
Fewer peak loads
Reduced energy consumption
Smaller size of the mains connection components – saving factory floor space
Cost and energy savings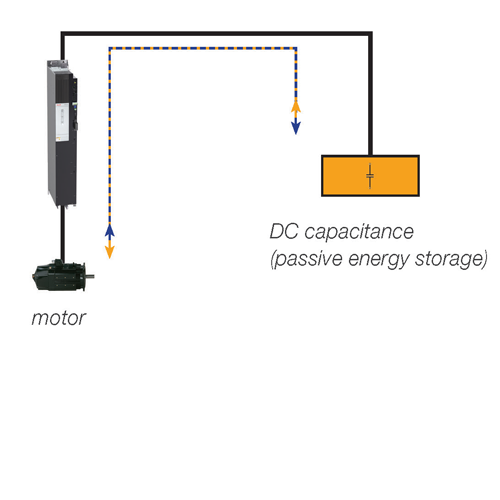 Kinetic Buffering
Intelligent active energy management by a drive-integrated MLD function
Requirement-oriented control and interaction with the process
Reduction of peak loads
Decrease in energy consumption
Smaller size of the mains connection components
Saves energy and cost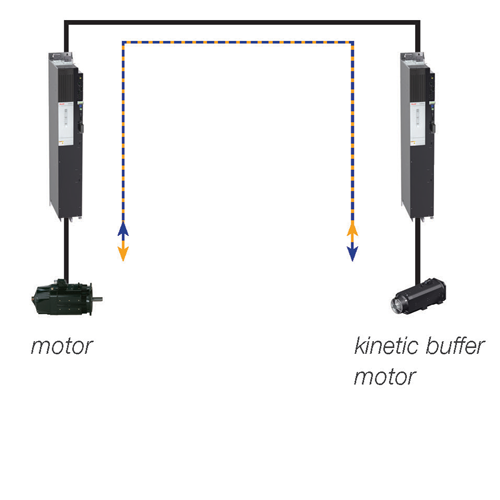 Energy Recovery Back to the Mains
Regenerating excessive energy in the mains supply
Providing constant DC voltage
High mains supply quality with least harmonic distortion
Decrease of energy consumption, especially during long periods in regenerating mode
Saving energy and cost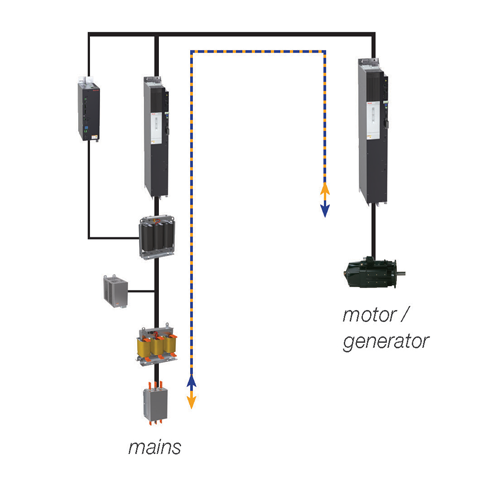 Schedule your consultation with our product managers today!
Please fill out the form, give us a call or send us an

email

. We can't wait to hear from you!
248-373-1600
Read our blog post about the benefits and advantages of Bosch Rexroth's IndraDrive ML technology, the power behind our Battery Cycling - DC Testing Solution.
Today, machine users are challenged by maintaining their bottom line while meeting increased productivity and availability demands. They need machines and drive technology they can count on for maximum flexibility and efficiency. The IndraDrive ML from Rexroth is a powerful drive solution that is capable of generating up to 500 kW. The IndraDrive ML is ideal for multi-axis applications, as it is capable of connecting to 8 units in parallel to reach outputs as high as 4 MW.