Mobile equipment manufacturers are always looking for ways to decrease machine weight, lower oil volume, and free up space. Reducing reservoir size can provide all of these benefits and more, but it requires advanced tank reservoir optimization strategies. Small, complex, and improper designs may not have proper deaeration, allowing too much air to circulate freely in a hydraulic system. Without correct deaeration, the air within these systems can cause corrosion of pumps and controls, accelerated oil aging and varnish, cavitation, dynamic operation problems, and reduced filter capacity. These issues can greatly increase downtime, repair costs, oil consumption, and emissions.
However, with Tank Reservoir System Optimization by Morrell Group and HYDAC, OEMs can safely and effectively decrease tank reservoir size to reduce oil volume and emissions while reducing corrosion, cavitation, temperature, micro-diesel effect, noise, and component damage. Through custom system optimizations, optimized products, and experienced guidance, Tank Reservoir System Optimization for mobile/off-highway machinery saves materials and oil costs, frees up additional machine space, and may even lower emissions.
Reservoir Optimization Solutions
Custom System Optimization
For years, HYDAC has studied air separation capacity and flow behavior in great detail to learn the best optimization practices for tank reservoirs. Paired with our extensive hydraulics and mobile/off-highway experience, we design custom, specific-to-your-application reservoir optimization solutions through computer-aided simulations.
To create your best-fit tank reservoir optimization solution, we start with technical consulting and engineering with simulations, laboratory and field tests, and individual consultation. Computer-aided simulations for system optimization focus on flow, deaeration, and sloshing when brakes are applied. We also utilize Air-X technology filters, elements, and complete plug-and-play filter tank solutions.
Additionally, HYDAC experts study filter tank systems in various mobile/off-highway equipment to learn designs that best fit many applications. In-lab tests provide physical and proven evidence of the effective Tank Reservoir System Optimization by Morrell Group and HYDAC.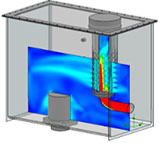 Reservoir Optimization Products
HYDAC offers a standard filter product range and custom filters for oil reservoir optimization. Combining these unique products with Tank Reservoir System Optimization strategies, the entire hydraulic system is optimized on every level for max efficiency and minimal emissions.
In-to-Out Filtration
To improve airflow within a hydraulic system, HYDAC created an in-to-out filtration strategy. An upstream flow from the bottom rises to an outlet close to the oil's surface, allowing for low outlet velocity and minimal turbulence. Low velocity and turbulence create smooth oil blending, which reduces sloshing.
Integrated Deaeration Windows
Deaeration is the process of removing air from a liquid, which is an essential process in tank reservoir optimization. In-to-out filtration quickly guides air bubbles to the oil's surface for seamless deaeration of air in the reservoir. Faster deaeration allows for more frequent turns in the reservoir.
Flow Designs
While flow designs are available in a standard line of filter solutions, custom flow designs are available for max reservoir optimization. These designs allow for low flow velocity, which simplifies internal tank complexity. With expert guidance, the best-fit flow design will be chosen for your custom reservoir optimization solution.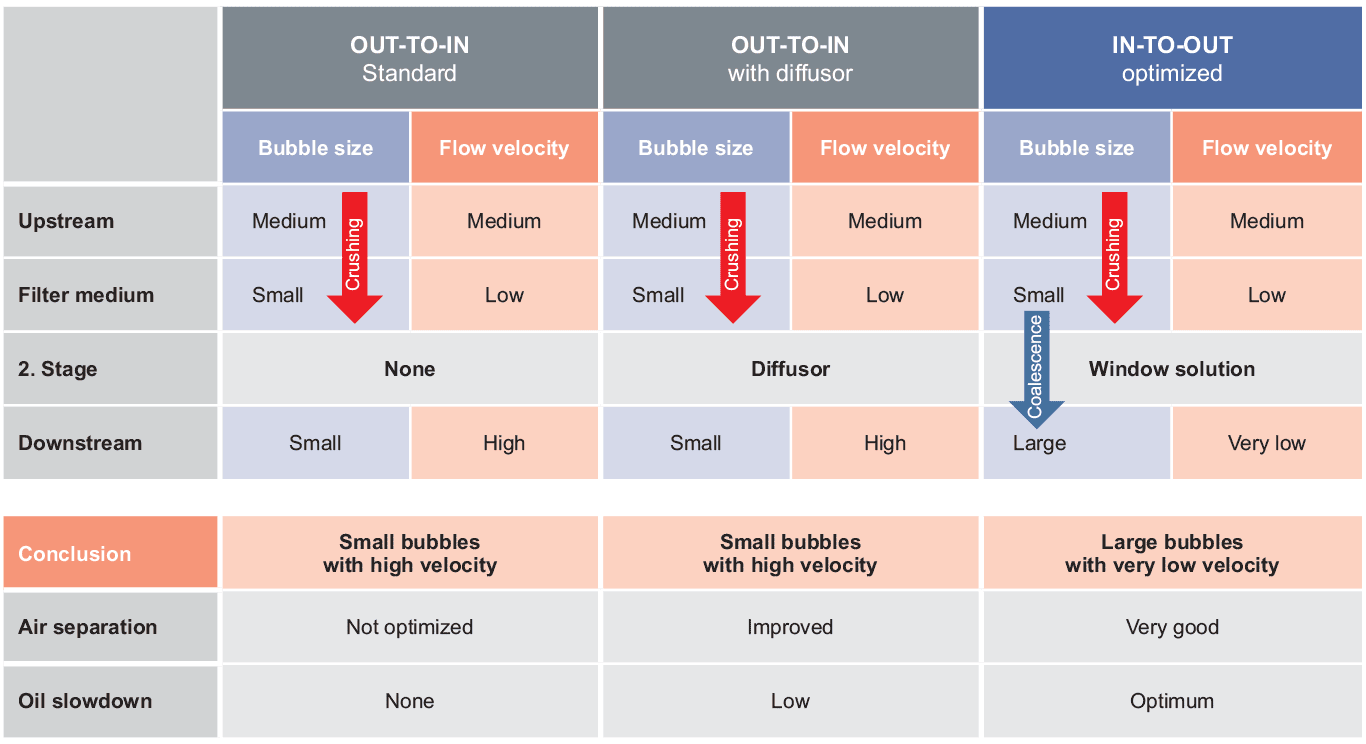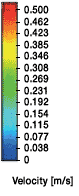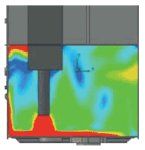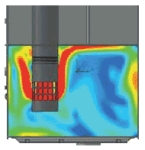 OUT-TO-IN
with diffusor
RT Return Line FIlter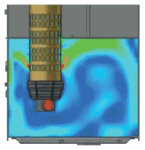 IN-TO-OUT
optimized
Air-X
Air-X Technology for Reservoir Optimization

HYDAC Air-X technology reduces reservoir size by 30 to 40%, which decreases oil volume, frees up design space, and lowers complexity with minimal effort, piping, and connections. This technology reduces the complexity and materials used while improving air separation in the tank reservoir. An advanced filtration strategy is required for the full effect of this improved deaeration to show, which is available in special filters that protect the system from the air and the consequences of poor deaeration.
Air-X air separation and filtration create low discharge velocities, reduce oil turbulence, uniformly mix oil, and allow seamless coalescence of air bubbles at the integrated deaeration window for fast air separation. A large tank reservoir is not needed with this advanced filtration strategy.

The HYDAC RT Return Line Filter is a Tank Reservoir System Optimization solution focusing on flow and deaeration to create advanced air separation in the tank reservoir.
The in-to-out flow ensures the enclosure of contamination on the dirt side during element change. Magnetic cores can also help to lock away contaminants. The RT Return Line Filter features a large opening profile, so oil flows more slowly toward the tank, which allows more time for air bubbles to rise and deaerate. The smooth and slow flow creates a calm oil surface that reduces splattering and sloshing.
The optimal in-to-out flow direction significantly improves air separation and deaeration. As the oil flows through the fine filter material of the media filter, it pushes the air bubbles together, fusing tiny bubbles to create bigger bubbles. The increased air bubble size allows them to rise and deaerate more quickly.
Experienced Guidance
HYDAC has a global network of expertise, quality standards, and customer focus that can meet the market's strict requirements and support customers as an expert partner in developing tailored solutions. HYDAC combines knowledge and experience in the "air and oil" field to provide custom solutions for Tank Reservoir System Optimization.
Morrell Group's experienced application and technical specialists leverage product and industry knowledge in hydraulics and mobile/off-highway equipment to provide custom Tank Reservoir System Optimization solutions.
Together, Morrell Group and HYDAC offer many years of experience and know-how, extensive system optimization tools such as simulation and testing, and application-oriented filter solutions for comprehensive optimization of the filter-tank system.
Optimize Your Mobile Tank Reservoirs Today!