The Smart Function Kit for Handling was designed to move components or workpieces in defined spaces with precision and dependability. This mechatronic solution relies on a Cartesian single- or multi-axis system. A combination of proven Rexroth linear axes and state-of-the-art control technology and software creates single-sourced, customized solutions.
Call 248-373-1600 to schedule a live demo, or email us
Plug & Produce to Start Immediately
Select and configure products quickly and easily with modern e-tools. See a quick start to production and a short time-to-market by utilizing the preinstalled software to commission and process configuration with speed and intuition.
A Wide Range of Applications
As a ready-to-install mechatronic positioning and handling solution, the Smart Function Kit for Handling is a perfect fit for automating technology in areas such as pick and place logistical applications, packaging technology, machine loading, machine assembly or assembly processes.
Servo Drive with Integrated Control System
Individually configurable and I4.0 capable
Current generation ctrlX Drive servo drive
Integrated ctrlX CORE control
Open interface for I4.0 via OPC-UA
Multiple Fieldbus-based protocols: Sercos III, Ethernet IP, Profinet, EtherCAT
Mechanics and Motor
Single- or multi-axis Cartesian modular system, easily configurable
Absolute encoder and integrated motor brake built into the MS2N series servomotor
Vast array of possible customized solutions
Browser-based, intuitive Web HMI
Ease of use for process analysis, process configuration, commissioning, and operation
Easy commissioning with Wizard
Zero programming knowledge needed
Easily integrated into higher-level control and IT infrastructure
Immediate program creation
Configure with drag and drop process
One Mechatronic Solution — Numerous Benefits
Easy product selection and configuration
Easy product selection and configuration
Various kits combine preselected mechanical, electrical, and software components
Single-sourced components, Rexroth quality
Plug & Produce
Single-package delivery, operating software preinstalled
Servo drive auto parameterizes
Servo drive's integrated motion control requires few interfaces
Zero Programming
No need for programming knowledge
Process and evaluation elements configured simply, logically
Browser-based HMI adaptable to various end devices
Design in modern, intuitive
System Overview
Single-or multi-axis system; CKK and CKR linear modules, sizes 090-200; MKR sizes 065-110; essential connection elements
Automation hardware includes servo drive, control unit, and servo motor
Browser-based WEB HMI enables process configuration and analysis, operation, and commissioning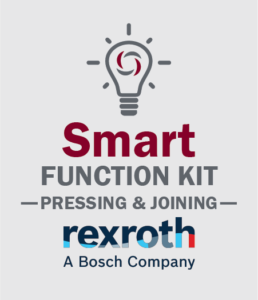 Smart Function Kit for Pressing and Joining
The Smart Function Kit for Pressing and Joining by Bosch Rexroth is a ready-to-use system of Rexroth components for joining processes, including an easy-to-use, web-based software solution.
Learn more!
Please fill out the form, give us a call or send us an

email

. We can't wait to hear from you!
248-373-1600