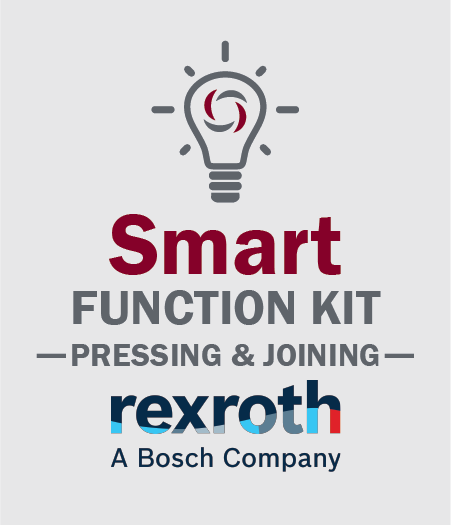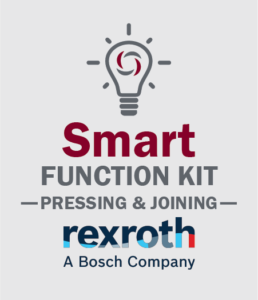 Plug & Produce with the New Smart Press Kit
With the new Smart Function Kit for Pressing and Joining, Bosch Rexroth delivers – for the very first time – a ready-to-use system of proven Rexroth components for joining processes, including an easy, web-based software solution.
The Smart Function Kit for Pressing and Joining consists of perfectly matching hardware and software components. It can be used either as a standalone solution or integrated in higher-level systems via fieldbus.
Call 248-373-1600 to schedule a live demo, or email us
One System Solution, Many Benefits
Easy Product Selection
Preselected mechanical, electrical and software components from Bosch Rexroth are combined in various kits for forces from 2 to 30 kN
Plug & Produce
Delivered in a single package, including preinstalled operating software
Auto parameterization of the servo drive
Small number of interfaces (servo drive with integrated motion control)
Zero Programming
No programming knowledge required
Easy and logical configuration of the process and the evaluation elements
Browser-based web HMI can be used on various devices
Modern and intuitive design
Smart Press Kit Infographic
Mounting and Joining Applications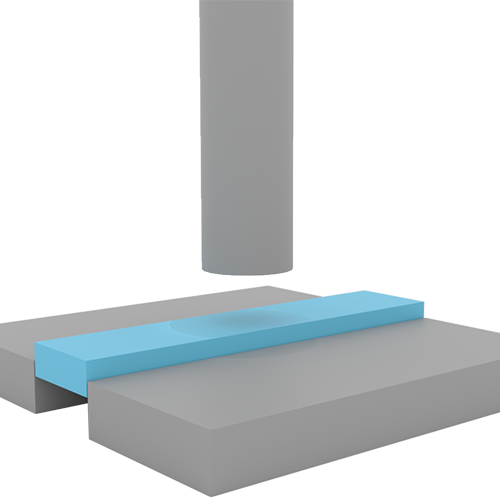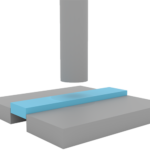 Press Fitting

Examples: Stator packages for electric motors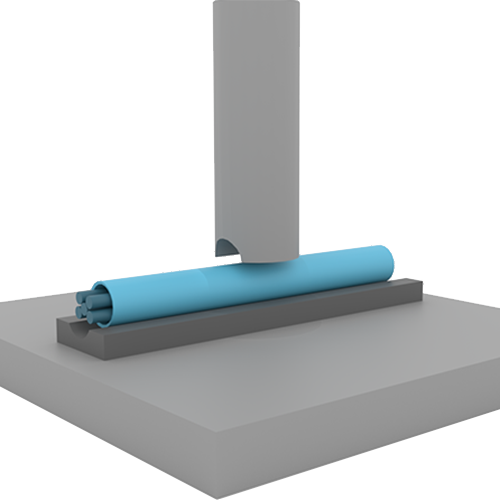 Crimping
Examples: Hoses, cables and plastic parts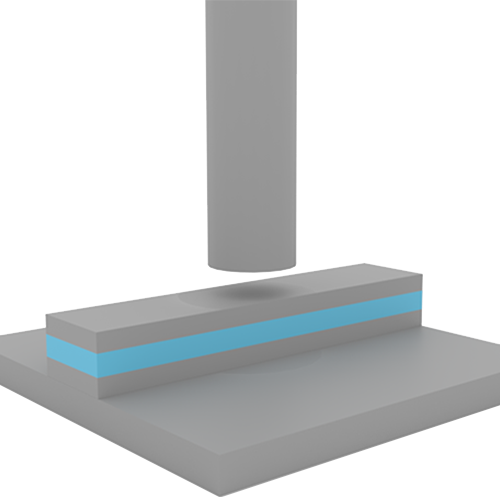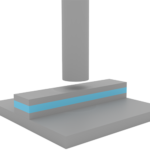 Pressing
Examples: Sintering or powder press applications
Riveting
Example: Economical joining of sheet metal parts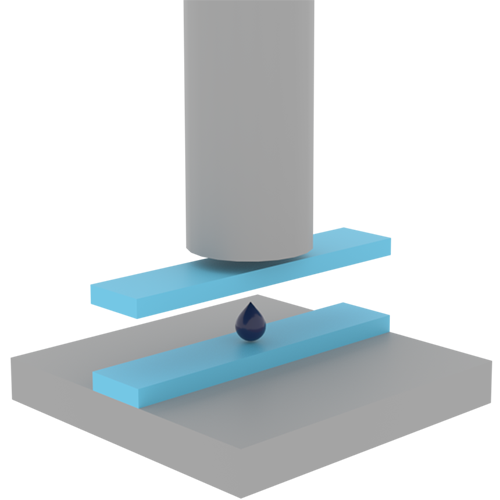 Bonding

Examples: Bonding of plastic and composite materials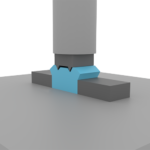 Caulking
Examples: Integration of magnets in lamination stacks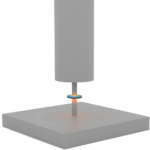 Welding
Examples: Hot plate welding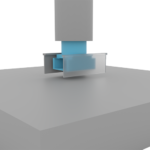 Clipping
Example: Connector contacts in connector housing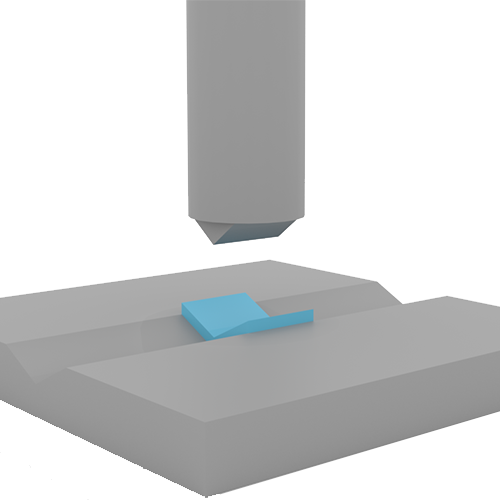 Bending

Examples: Pipes in the metal industry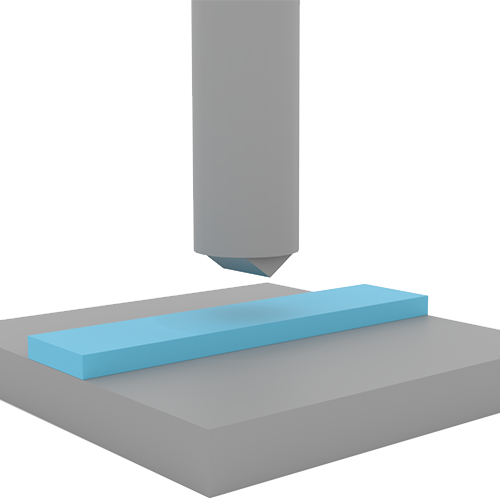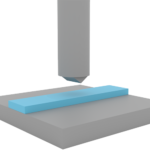 Embossing
Examples: Logos in plastic film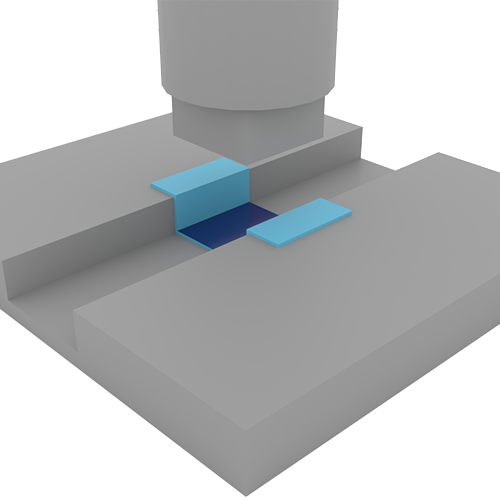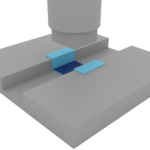 Deep Drawing
Examples: Production of packaging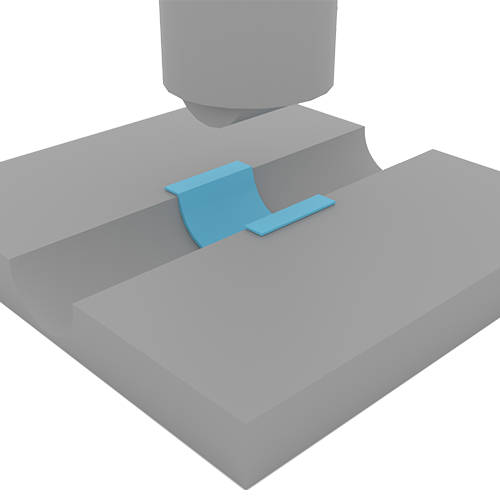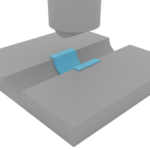 Shaping
Example: Boxes in the packaging industry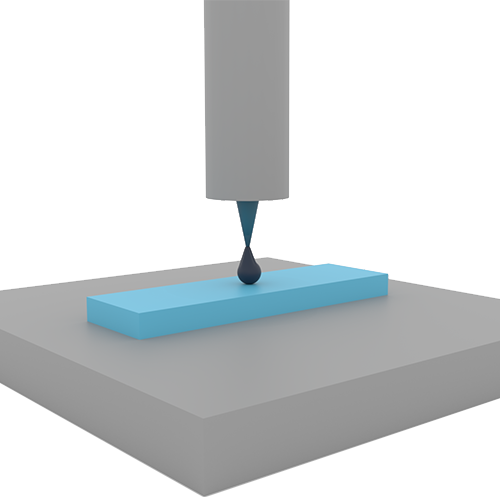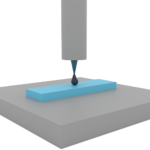 Measurement
Examples: Test stands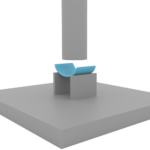 Testing
Examples: Test setups for dampers, springs, brake pedals
Commissioning with Auto Configuration (Plug & Produce)
Preinstalled software
Wizard for fast, easy commissioning
Automatic loading of hardware configuration
Auto parameterization of the servo drive
Support for commissioning with homing and jog mode
Benefits
Time savings thanks to Plug & Produce
Fewer errors and increased productivity
Significantly reduced complexity
Simple Programming and Operation
Modular process configuration with drag and drop
Logic check of input data
Easy graphical creation o evaluation and analysis elements
Visualization of process and status information in the dashboard
Benefits
High level of user-friendliness – no programming knowledge required
Error reduction and avoidance
Analysis and Diagnosis via Dashboard
Analysis of force-displacement curves
Visualization of the process result (OK/NOK)
Storing of process data for quality assurance in an internal database
Press history with filter and export function
Diagnostic functions: system parameters as well as status reports and statistics 
Log book with plain text error messages integrated in the software
Data access via ReST programming interface
Benefits
Always up-to-date with current process data such as position, force and speed
Short reaction times in case of deviation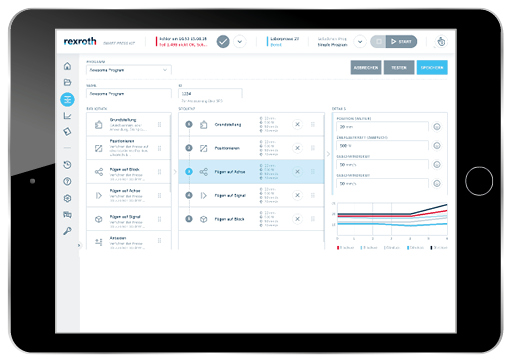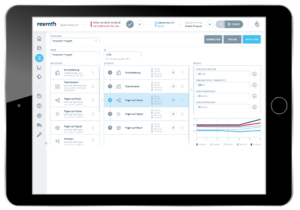 Kit Specifications
Size
SPK 002
SPK 004
SPK 007
SPK 012
SPK 019
SPK 030
Stroke [mm]
35…400
40…400
65…400
80…400
70…400
90…400
Nominal force [lbs]
450
900
1580
2700
4270
6745
Max. force [lbs]
675
1350
2250
3370
4500
8990
Max. velocity [m/s]
0.38
0.32
0.55
0.5
0.37
0.5
Force sensor/measurement
Measurement technology
Strain Gauge
Measuring range [kN]
-0.3…+3
-0.6…+6
-1…+10
-1…+15
-1…+20
-1…+40
Sampling rate [Hz]
1000
Resolution [bit]
14
Accuracy (linearity) [% FS]
+/- 3
Servo drive (with integrated motion control)
Power supply [V]
1 x AC
110…230
3 x AC
110….230
1 x AC
110…230
3 x AC
110….230
3 x AC
200…500
3 x AC
200…500
3 x AC
200…500
3 x AC
200…500
Safety functions acc. to EN 61800-5-2
Safe Torque Off (STO) 1)
Fieldbus interface
Profinet, Ethernet/IP, EtherCAT, Sercos III
Software functions
Max. number of programs
99
Number of program steps per program
500
Number of digital inputs/outputs
6 inputs + 1 output or 7 inputs
Force measurements
Unlimited without resolution reduction
Evaluation elements
Windows, envelopes, thresholds
Ambient conditions
Ambient temperature
(operation) [°C]
0–50 °C (loss of performance at temperatures exceeding 40°C)
IP protection class
Mechanics: Standard IP54 (up to IP65 possible)
Control cabinet hardware: IP20
1) Category 4, Performance Level e according to EN ISO 13849-1 and SIL 3 according to EN 62061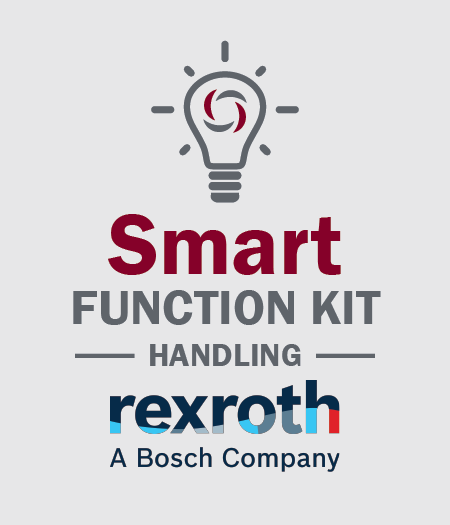 Smart Function Kit for Handling
The Smart Function Kit for Handling was designed to move components or workpieces in defined spaces with precision and dependability, this mechatronic solution relies on a Cartesian single- or multi-axis system.
Schedule your live demonstration today!
Please fill out the form, give us a call or send us an

e-mail

. We can't wait to hear from you!
248-373-1600