Thermal management with a hydraulic oil cooler or engine cooling system can sustainably increase the efficiency and service of OEM mobile/off-highway machinery. The HYDAC cooler filter tank is a pre-assembled system with coordinated components tailor-made to customer requirements to ensure appropriate and correct thermal management. The cooler filter tank is a unique solution that significantly improves component efficiency and reduces tank size, leakage points, and plumbing.
The complete, single-component cooler filter tank solution is sourced directly from HYDAC. Typical cooling systems require components from multiple manufacturers, which increases production costs. As a single component, the cooler filter tank is lighter, smaller, and more energy efficient. It also has reduced leakage points as each individual component does not require additional plumbing to integrate.
The cooler filter tank system is perfect for mobile OEMs that manufacture over 250 applications per year. This solution is comprehensive for diesel drives, hybrid drives, and electrified machines.
The HYDAC combination coolers in the CMS series are cooler filter tanks optimized for multiple cooling circuits. It can be customized to the required specifications to meet challenging mobile application demands. Despite its compact dimensions, it easily maintains high performance and efficiency levels.
With optimized filter efficiency, the tank reservoir size can be smaller, which decreases volume. It has a good retention rate and minimal pressure loss. The tank uses rotomolding technology with polyamide PA 6 material, which can be shaped specifically for customer needs. The optimized cooler filter tank components can reduce tank size by up to 40%.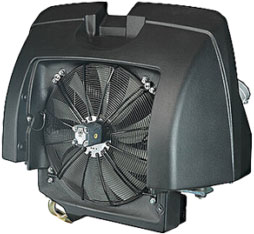 The HYDAC cooler filter tank takes advantage of the valuable space claim on mobile machinery by reducing tank size with a quality protection filter. The compact, single-core cooler is optimized for airflow, requires little maintenance, and allows little clogging. The filter features optimized deaeration windows to improve flow and integrated sealing technology for leak-free filtration. This special sealing on the filter is HYDAC exclusive with quality protection.
HYDAC has studied air separation capacity and flow behavior for years to determine the best optimization practices for cooler filter tanks. Paired with our extensive experience in hydraulics and mobile/off-highway applications, we offer custom systems designed specifically for your application's requirements. Our expert engineering processes include conceptualization, design, prototype, pre-series, and production.
Our process for creating a cooler filter tank system solution begins with assessing your application conditions and available space. We then coordinate specifications, considering installation space, performance parameters, operating temperature limits, mechanical loads, the number of components, and the functional scope. With the help of our configuration and simulation software, we design a cooler filter tank system specific to your application's requirements. Our focus is optimizing the tank's flow to decrease tank size, weight, leakage points, plumbing, and the amount of air in the oil.
To ensure the quality of the prototype production, we conduct an initial-sample inspection report, measurements in the machine, and field tests for leakage and vibration. Based on the results, we make necessary adjustments to the drawings or part lists for the final optimized design. After production, you'll have a cooler filter tank featuring components with a coordinated design. These components may include a return-suction line filter, a breather filter, a protective grille, a hydraulic fan, an oil tank with optimized geometry, and a fluid level gauge.
The optimization of the cooling concept leads to less space needed, an increase in performance, and a reduction in noise due to a damping effect of the oil tank. The cooler filter tank is a single component with one part number for easy ordering and installation.
Other Mobile Cooling Systems
Thermal management with an engine cooling system can sustainably increase the efficiency and service of mobile machinery. HYDAC engine cooling solutions are tailor-made to customer requirements to ensure appropriate and correct thermal management. These solutions are also comprehensive for diesel drives, hybrid drives, and electrified machines.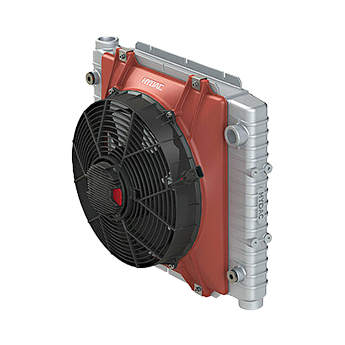 Mobile Air Coolers
HYDAC Mobile Air Coolers AC-M Series is a compact, easy-to-install, high-performance engine cooling system solution. The AC-M series features two air fins: one for a higher cooling capacity and one for lower susceptibility to contamination. This system is effective for oil and coolant, even with low electrical conductivities.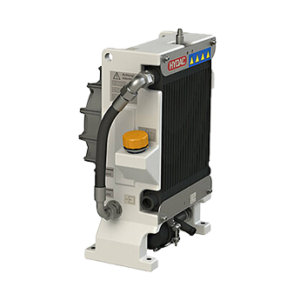 Mobile Fluid Cooling Systems
HYDAC Mobile Fluid Cooling Systems provide efficient cooling to prevent damage and failure. This engine cooling system is a complete turnkey solution for thermal management challenges, such as impaired equipment service life.
Evolution In Controls
The Captivating Cooler Filter Tank
Host Tim Wilson and special guest Kevin Kegarise discuss HYDAC's cooler filter tank solution for mobile machinery.