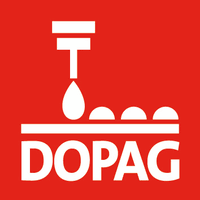 Metering and Mixing Dispensing Technology from DOPAG:
Greasing, bonding, sealing, gasketing, & potting
Shot, spray, continuous, & dot
40+ years of industry expertise
Concept engineering
R&D for each application
Custom automation solutions
Technical center for testing
In-house fluid compatibility tests
Material manufacturers collaboration
Over 2,000 materials tested
Monitoring and integrated solutions
Validation of dispensed material
Precision Metering and Mixing Dispensing
DOPAG is one of the leading metering and mixing systems manufacturers for multi-component media like polymers and epoxy resins and single-component media such as silicone, greases, oils, and adhesives. The high-quality standards of DOPAG products guarantee maximum precision and repeatability of results – even in highly automated processes. DOPAG fluid dispensing systems offer a variety of application techniques: shot, spray, continuous, or dot.
DOPAG's 1K metering systems precisely deliver adhesives, sealants, greases, and oils from their original containers to the application spot. The material is then applied to the workpiece shotwise or in a continuous bead shape. One-component media can be delivered via a material pressure vessel - in case of a flowable or low-viscosity medium - or a drum pump installed on a double pump station for middle to high-viscosity media. The application can be carried out manually or automatically.
Weight reduction and the versatility of new adhesives have made bonding popular in industries that join disparate materials and improve sealing techniques. DOPAG has been able to assume a leading position in the market because of its constant optimization of its fluid dispensing systems. They apply adhesives precisely and in the correct amount. This precision and accuracy prevent the waste of adhesive and sealants, providing optimal visual results.
DOPAG's 2K metering and mixing systems can process multi-component media such as epoxy resins, polyurethanes, and silicones. Different basic configurations featuring a modular design are available and can be explicitly configured to your demands. Homogenous mixing of the components becomes extremely important when processing multi-component materials. Wide differences in media viscosity, short pot life, and components that are difficult to mix require different mixing systems.
DOPAG offers dynamic mixing systems, static mixing systems, a static-dynamic mixing system, and mixer element monitoring for static-dynamic mixing systems. DOPAG is the system provider for gasketing, bonding, sealing, potting, and automating. The dynamicLine is based on the newly developed dynamic mixing head with its innovative valve technology. With this technology, DOPAG has raised the bar and set a new benchmark regarding ease of use, accuracy, and reliability for dynamic mixing. The high-performance mixing head is based on 40 years of experience with two-component, low-pressure metering and impresses with its unique valve technology with a booster. The variability of DOPAG's potting systems means they achieve all requirements for precise mixing, metering, and application of resins, always aligned to the individual needs of customers.
DOPAG's fluid dispensing systems will deliver on all your mixing and metering needs no matter your market: automotive, aerospace, transportation, glazing, wind power, white goods, LED, construction, or electronics. Moreover, they will save on time, effort, and materials while increasing your ROI.
1K Metering Systems
DOPAG 1K metering systems handle precision industrial applications of adhesives, sealants, lubricants, and silicone with ease.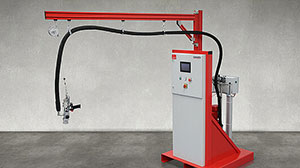 Coredis
Coredis, a gear metering system, processes special, low-density 1K epoxies filled with micro hollow spheres. The unique challenge, in this case, is that we are dealing with a reactive medium that remains in the material contacting systems after processing and that can be subjected to a curing reaction. To prevent the stored medium from unintentionally curing, Coredis features a specially developed structure.
Modis
Modis, a highly dynamic, speed-proportional gear metering system, controls the flow rate of single-component adhesive applications in the automotive and automotive supply industries. Modis covers a wide range of flow rates with just four different construction sizes.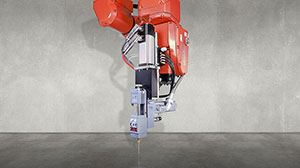 Vectodis
Vectodis, a single action-acting piston pump, is also known as a "differential piston pump." The modular construction of Vectodis enables a wide range of use. This product line is especially recommended for materials that need to be applied in a highly precise and repeatable manner. The material can be processed by either shot dispensing or continuous flow.
The 1K metering systems lubricate these automotive parts:
Engine, gearbox, interior, body, exterior, chassis, & powertrain
Drum pumps, pressure vessels, & transfer pumps
Pressure regulators
Dispensing & metering valves
Control units
The 1K metering systems bond and seal these areas:
Engine, gearbox, & clutch
Dosing system with drum pump
Gear pump system
Gear & piston metering system
2K Metering Systems
DOPAG's 2K system, which processes multi-component media, utilizes three of the most popular systems: Eldomix, Vectomix, and Variomix.
Eldomix
The Eldomix 100/600 models of metering and mixing systems are compact, solvent free, and gear-pump driven. They are used to apply low to medium viscosity, multiple-component materials such as epoxies, polyurethanes, and silicones.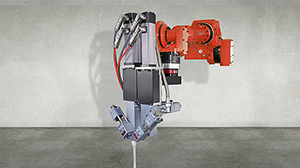 Vectomix
Vectomix, a piston metering system, handles multi-component materials; it's especially recommended for materials that must be applied in a highly precise and repeatable way. Its modular construction enables a wide range of use.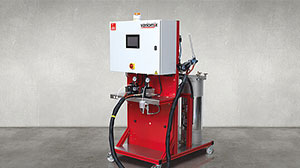 Variomix
Variomix, a pneumatic-driven piston pump-type metering and mixing system, handles low to high viscosity, multi-component media such as epoxy resins, polyurethanes, or silicones.
In the automotive industry, these systems are used for:
Encapsulating electronics & stators
Sealing electronic & cable housing
Bonding lightweight components, sheet metal, & battery housings
Processing thermally conductive materials & stator encapsulation
These systems produce Automatic Dynamic Mixing for:
Gasketing, potting, & bonding for the battery of e-mobility, door panels, & loudspeakers
Dynamic mixing heads
Linear & industry robots
Automated Dispense Applications for Aerospace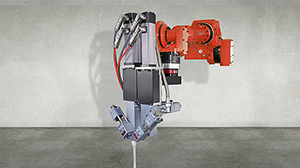 Volumix is suitable for automated applications of light polysulphides in the aerospace industry and can seal all aircraft components. The applications for sealants are many and varied:
To fill gaps in the assembly process
To protect against corrosion, e.g., sealing rivets
To seal fuel tanks & wings
As aerodynamic seals, e.g., on the outer skin & window frames
To seal edges (to avoid the annealing effect in fuel tanks)