Maximize transparency, reduce downtime and boost productivity with the new Smart Press Kit from Rexroth. The modular Smart Press Kit includes electromechanical, electrical and software components. This plug-and-produce, no-coding-required solution makes assembly, joining and testing applications smarter, faster and more productive in five simple ways.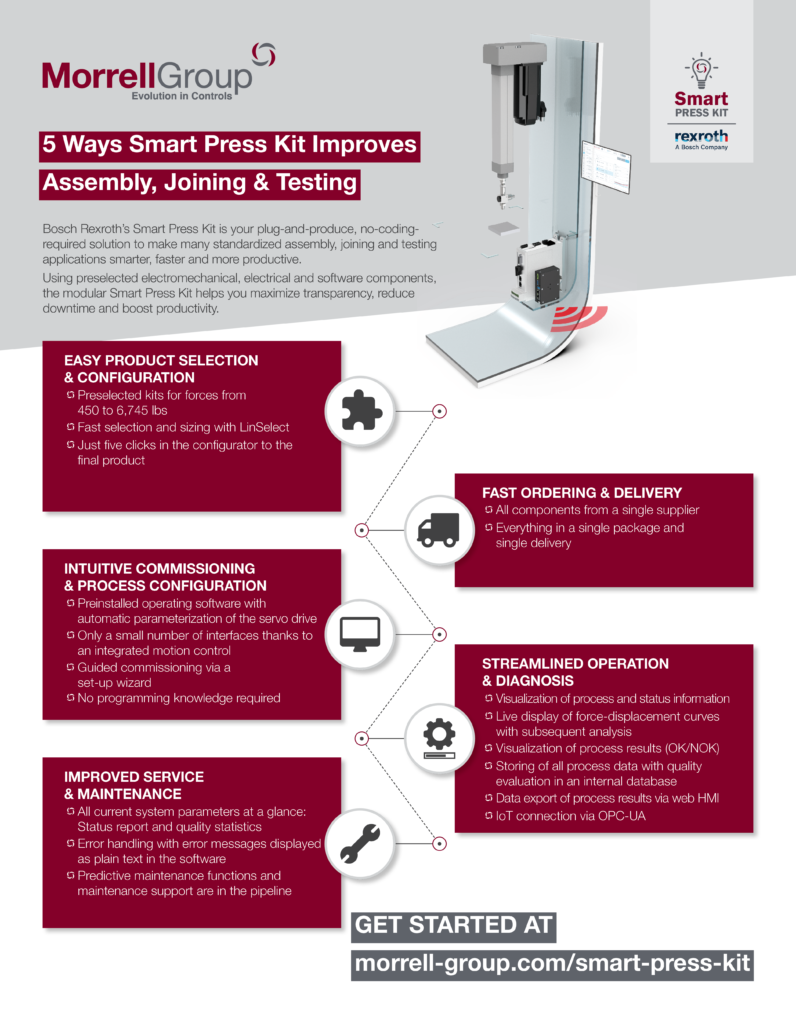 Easy Product Selection and Configuration
Quickly size and select products with the LinSelect tool from Rexroth. You can configure a complete product within five clicks. The preselected Smart Press Kit components meet the requirements for forces from 450 to 6,745 lbs.
Fast Ordering and Delivery
The Smart Press Kit is sourced from a single supplier – simplifying delivery with one package from one source.
Intuitive Commissioning and Process Configuration
With the Smart Press Kit, no programming knowledge is required thanks to guided commissioning with a set-up wizard. There is a minimal number of interfaces due to integrated motion control and preinstalled operating software allows for automatic parameterization of the servo drive.
Streamlined Operations and Diagnosis
The Smart Press Kit includes a live display of force-displacement curves with subsequent analysis. The display offers a visualization of process and status information and all process data is stored on an internal database. Data can be exported via web HMI and IoT connection is available via OPC-UA.
Improved Service and Maintenance
Status reports and quality statistics are available through the display and error messages are displayed as plain text in the software. Additional predictive maintenance functions and support will be available in the future.
Design your optimized solution with Morrell Group at Smart Press Kit