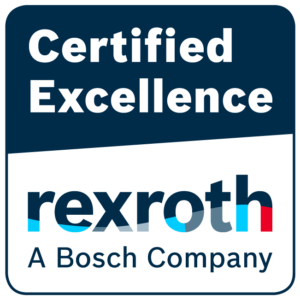 Morrell Group Canada has received the unique distinction of Certified Excellence Partner of Bosch Rexroth Canada. Certified Excellence Partners are described as having an excellent business profile in areas such as "sales experience, marketing, product know-how, customer requirements, and service, as well as business methods and trustworthiness." As an Engineering Partner, Systems Integrator, and Value-Added Distributor (ESV), Morrell Group Canada supports its customers with high-quality products and services. We leverage our partnership with Bosch Rexroth Canada to maximize the use of their technology in order to optimize our customers' systems. It is more than just component sales and product availability; it is about engineering, integration, and after-sales support.
Certified Excellence Partners for Distribution reliably deliver. They are experts in logistics and warehouse management, enabling fast, smooth, and efficient material flow from inventory to shipment. Our CE-Partners for Distribution not only deliver best-in-class Bosch Rexroth products and technology, they also deliver certified expertise in product assembly and installation solutions. Finally, they provide the knowledge to select, apply and maintain Bosch Rexroth products and technologies, which delivers customer satisfaction. 
Morrell Group Canada had scores for specific key performance indicators (KPIs) for items such as stock on hand, cooperation with regional sales, forecast planning, and marketing. It also measured our ability to design systems and utilize engineering tools. In addition to reaching target evaluation points, we also had to reach a certain number of total points in order to be considered for Certified Excellence Partner status.
Morrell Group Canada's strengths were shown across the board, but they were particularly strong in market knowledge, readiness to take over customer responsibilities, and operational matters such as automatic electronic ordering processes. Our team's ability to provide detailed engineering support and customer training also played a key factor in receiving critical points. Each of these strengths showcases our team's consistency in supporting a customer throughout the entire sales, engineering, and integration process. This program emphasizes the need to maintain industry-leading tools for engineering support and order processing, along with onsite support from our team.
"I am proud of our team in Canada and their continued efforts to expand their product knowledge and offer the highest level of service to our customers. It is a great honor to be a Certified Excellence Partner of Bosch Rexroth Canada and have a vendor partner that aligns with our goals and quality standards," shared Kevin Curtis, Branch Manager of Morrell Group Canada.
Morrell Group Canada is recognized as a Certified Excellence Partner for the following Bosch Rexroth product and service offerings:
Products:
Accumulators
Cylinders
Electronics and Motion Controls
Filters
Industrial Motors
Industrial Pumps
Manifolds and Plates
On/Off Valves
Power Units
Proportional, High-Response and Servo Valves
Systems (i.e., Sytronix)
Services:
After-Sales Support
Component Sales
Product Availability
Spare Parts
Experience a superior level of support from concept to completion when you work with our Morrell Group Canada team, Certified Excellence Partners of Bosch Rexroth Canada. Get connected with our team today.
Morrell Group U.S. was designated as a "Certified Excellence Sales Partner" from Bosch Rexroth. Learn More Now!