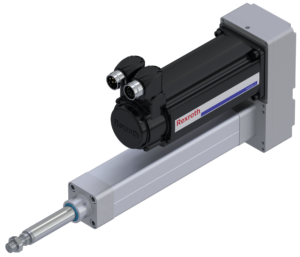 The Electromechanical Cylinder (EMC) from Bosch Rexroth has high thrust/speed capability with more flexibility and control for applications that traditionally use hydraulic or pneumatic cylinders. The EMC is a contained precision rolled ball screw actuator that ensures exact positioning with a powerful thrust capability. Compactly constructed EMCs are available in various sizes to meet your application needs. They are incredibly efficient, especially for applications with a small number of axes.
The Electromechanical Cylinder offers clear advantages, including its ability to travel to any intermediate target position with greater flexibility thanks to higher thrust and variable speed. The EMC provides high mechanical efficiency with minimal energy usage. Performance characteristics, including position accuracy, thrust, and speed, can be optimized to meet the performance requirements of your application. Stainless steel piston rods are also available for use in harsh conditions.
Bosch Rexroth's Electromechanical Cylinder is flexible, offering motor attachment via motor mount and coupling or belt side drive. The EMC is compatible with an extensive series of Bosch Rexroth components to meet your application performance requirements. The Electromechanical Cylinder is quick to assemble and requires little maintenance.
Electromechanical Cylinder Key Benefits
Achieve exact positioning with the integrated ball screw drive

Quick assembly

Low maintenance

Preferred stroke lengths: 100, 200, 320, and 400 mm with shorter delivery times
Electromechanical Cylinder Application Examples
An Electromechanical Cylinder can be used in various applications as a replacement or in conjunction with pneumatic and hydraulic technology. Here are some of the more popular applications:
Machine Tools or Woodworking Machines

Dispensing Systems

Joining and Pressing

Material Handling and Feed Systems

Test Rigs and Laboratory Applications

Actuator Drives

Welding, Bonding, Thermoforming

Volumetric Filing
The EMC-HP electromechanical cylinder (High Power) by Bosch Rexroth is designed for heavy-duty applications. The actuator is extraordinarily robust and compact and guarantees a long service life and high continuous performance even under the harshest conditions. Ensure exact positioning with a high-precision planetary screw drive, maximizing control accuracy and dynamics. The EMC-HP quickly adopts new processes and machine concepts with freely adjusted parameters and quick implementation of complex travel profiles. Overall, the EMC-HP helps reduce commissioning costs and downtime.