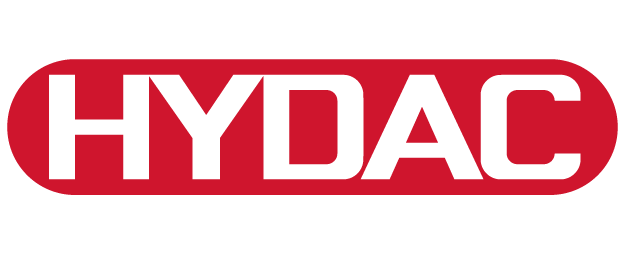 The life expectancy of one oil filling in a hydraulic or lubricating unit has decreased significantly over the last several years as machines run harder and longer production cycles. The life expectancy of an oiling filling depends on maintenance programs in order to avoid degradation or "varnish." Varnish will build up at an exponential rate, resulting in hot spots and prematurely plugged components, rendering them inefficient.
HYDAC's new Varnish Elimination Unit, VEU, removes oil-aging products from mineral oil to extend oil and component lifetime. The VEU contains an OLF45 of OLF60, which filters the oil down to 2 microns. The VEU has an option for an air-cooled unit or water-cooled unit, as the cooled oil makes the soluble varnish a solid contaminate that can be filtered out. The VEU runs offline on the hydraulic reservoir, constantly running and removing varnish. This also allows for filter element maintenance without disrupting production. This bypass method is more efficient than utilizing ion exchangers, which require complex oil analysis.
Varnish Elimination Unit Features
- Removes soil and gel-like oil aging products
- Fewer deposits in hydraulic valves result in increased operating reliability
- Improved oil service life
- Available for new and existing systems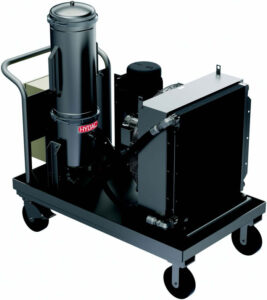 Varnish Elimination Unit Technical Specifications
VEU-x-10-... = 10gpm
VEU-x-15-… = 15gpm
Permissible fluid viscosity range
Permitted operating fluids
Fluid Service Temperature
Maximum pump operating pressure
Maximum ΔP across filter elements
Permissible inlet pressure range
VEU-x-10-… = 1-5/8 x 12UN - Male
VEU-x-15-… = 1-7/8-12UN - Male
Water INLET port connection (VEUW-…only)
Water OUTLET port connection (VEUW-…only)
460V AC / 60Hz / 3 Ph.
575V AC / 60Hz / 3 Ph.
Permissible ambient temperature range
Permissible storage temperature range
Permissible relative humidity
Approximate weight (empty)
Condition Monitoring and Preventative Solutions
Preventative maintenance and condition monitoring are critical to maximizing equipment uptime. Morrell Group utilizes HYDAC's leading technology in a variety of customer applications to maintain fluid and component cleanliness. From mobile filtration carts to replacement filter elements, we can meet all of your fluid maintenance requirements.