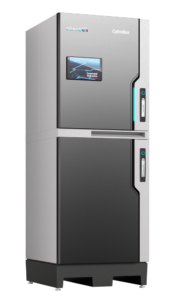 The CytroBox from Bosch Rexroth is a reimagined hydraulic power unit built with efficiency and connectivity in mind. The CytroBox is a dynamic power unit solution for a performance range of 7.5 kW to 30 kW. The CytroBox can easily integrate into new or existing systems thanks to its sleek control cabinet design. The all-in-one power unit features an integrated drive controller and servo drive to support speed variability. The CytroBox provides energy as needed, resulting in up to 80% energy savings compared to a constantly driven power unit. The synchronous motor and axial piston pump make the CytroBox more efficient than your average power unit.
The CytroBox has integrated IoT features, bringing your hydraulic power unit to the Factory of the Future with condition monitoring and predictive maintenance. With programs such as CytroConnect Monitor, Maintain, and Predict, users can monitor statuses and prepare for maintenance at optimal times. The software provides critical information such as estimated component lifetime and other vital indicators.
Further performance analysis is available with the Online Diagnostic Network (ODiN). ODiN uses sensor technology, cloud-based applications, and machine-learning methods to monitor system performance and provide predictive maintenance. This intelligent system determines the normal "healthy" state at the system's initial setup and tracks performance along that baseline, sending alerts when necessary.
CytroBox: The Future of Hydraulics
As an Engineering Partner, Systems Integrator, and Value-Added Distributor (ESV), Morrell Group collaborates with our customers to determine proper sizing and performance requirements when engineering a power unit solution. We work closely with Bosch Rexroth to ensure your CytroBox is appropriately sized and designed with your preferred IoT connectivity. Morrell Group also provides onsite start-up support for all of our engineered solutions.
CytroBox Features
Integrated drive controller

Ability to power up to 30 kW with identical frame interfaces and size

Powerful servo drive

Oil volume reduced by 75%

Data analysis with an Online Diagnostic Network (ODiN)
CytroBox Benefits
Low noise emissions

Up to 80% energy savings

Space-saving synchronous motors are 90% smaller than comparable asynchronous motors

Compact footprint thanks to innovative component designs and cooling concept

Equipped with an open interface and quality sensor package
More Hydraulic Power Unit Solutions