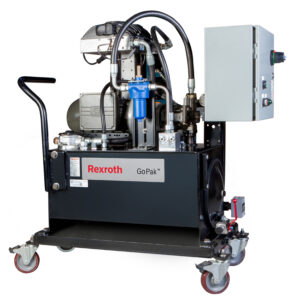 To bridge the gap between standard market products and engineered-to-order power units, Rexroth offers the GoPak hydraulic power units (HPU). These can be employed in machine tool, plastics, automotive, material handling, presses, marine, and other hydraulic applications. Rexroth and Morrell Group utilize state-of-the-art design and manufacturing concepts to develop these high-quality hydraulic power units within days. Rexroth offers unparalleled options to custom build your GoPak™ to suit your needs, all while staying competitively priced.
The high-quality tank-top pump-motor group design features the most reliant high performance fixed or variable pumps on the market coupled with prime motors to deliver low-cost options and optimized sizing heuristics. By using the FcP drive, you can have a more energy efficient, pressure controlled soft start. Rexroth's variable speed drives help save energy, provide cooling, and noise reduction.
Rexroth's GoDesigner™ smart configurator software tool makes things happen fast: Its expedited selection of pumps, motors, valves and other peripherals can get quotes to customers in a day and establish lead times as short as four to six weeks (configure the unit with designated Rexroth "GoTo" sub-component products and reduce that time to three weeks). The GoDesigner™ tool provides know-as-you-go pricing, detailed engineering tools for sizing optimization, and on-the-fly detailed sub-component information. Quotes are provided via GoDesigner™ in 1 business day or less.
An Experienced Engineering Partner
Morrell Group partners with your team from concept to completion to optimize a solution for your application. As an Engineering Partner, Systems Integrator, and Value-Added Distributor, ESV, we gather all of the details about your system and operational demands to design and deliver the right GoPak for your job. Our tenured product managers and engineering teams leverage their product, industry, and application knowledge to provide the best solution. Morrell Group's team is also available for startup support to ensure your system gets up and running without a hitch.
Reservoir sizes from 5 to 200 US gallons (mineral oil fluid)

Horsepower range: 1 to 75

Pressure range: 200 to 4000 psi

Pump displacement range: 4 to 140 cm3 per revolution (variable and fixed models)

Reservoir foundation with optional materials and finishes

Carbon or stainless

Powder coated (standard), painted epoxy, enamel or primer
Small footprint design from 5 to 200 gallons

Protected quality with state-of-the-art Rexroth filtration

Upsizing available for larger return flows

Visual indicator standard

Options include electrical indicator

Extensive and immediate document package on request – conditions apply (price and delivery, selection summary, terms and conditions, warranty, commissioning, bill of material, schematic, 2D dimensioned and ballooned drawing, interactive 3D model, highlighted sub-component data sheets)
Barstock manifold to control an optimized hydraulic power source

1-3 stations

D03, D05, D07

Standard and high flow

Ductile and aluminum

Upsizing available for higher return flows

Cooling systems for water or air as needed by proportional or high ambient temperature applications

2:1 and 4:1 oil water ratio

Optional regulating valve

Upsizing available for applications requiring more cooling

Integrated DC fan control extends the variable speed motor concept to the air cooler fan drive

AC drives

DC drives (12 and 24 V)

Integrated temperature switch

Flexible design

Upsizing available for applications requiring more cooling
Motor starters with plastic or steel enclosures to meet application demands

Dual scale pressure gauges measure system pressure in psi and bar

Fluid management with level switch, temperature switch or combination

For control over fluid medium's condition and the lifetime of hydraulic subcomponents

Reservoir fluid level and temperature monitoring

Pressure and/or return filter cleansing and service

Friendly tank friendly filling or cleaning

Provisions for additional return lines

Clever mount pads provide clever bracketry to add custom features from Rexroth or onsite

Fork lift bracket

Containment drip tray

Swivel casters with or without a push handle
More Hydraulic Power Unit Solutions