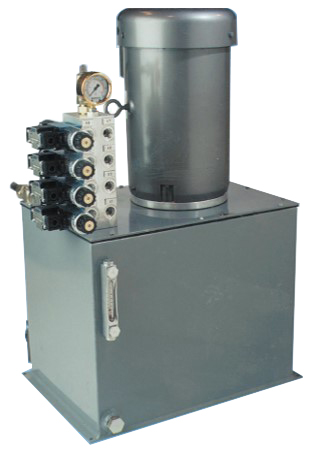 The Power Packs have a vertical submerged design, which has a smaller footprint, flooded suction and minimum operating noise. There are over 100 variations of the power unit that utilize components within Bosch Rexroth's GoTo Fast Delivery Program. Bosch Rexroth keeps components in stock so some of these low-cost power units can be built in as little as 10 days.
Designed to industrial standards and engineered to employ a wide range of fixed-displacement pumps as well as a variety of motor and valve options, Bosch Rexroth's standard Power Packs offer a vast array of configurations. You can choose flow rates ranging from 0.4 to 10.0 gpm with 2.5-, 5-, 10-, 15-, and 20-gallon steel reservoirs. With a combination of electric motors ranging from ½ to 20 hp and optional bar manifolds with up to 6 valve stations (D03), Bosch Rexroth Power Packs can be adapted to most standard applications. All standard units come with Bosch Rexroth's factory warranty and international serviceability.
Designed under the rigorous standards of ISO 9001, these power packs deliver the high caliber of workmanship and dependability for which Bosch Rexroth is known. Their ease of use and low maintenance expectations means they will provide years of worry-free, high-quality performance with little to no downtime. Their range of working pressures tops off at 3000 psi (210 bar).
Morrell Group's Collaborative Approach
Morrell Group will partner with your team to ensure proper sizing and optimized performance for your Power Pack. As an Engineering Partner, Systems Integrator, and Value-Added Distributor, ESV, Morrell Group collaborates with your team from concept to completion. Our group works to understand your entire system and its operational demands to develop a hydraulic system that meets or exceeds your performance requirements. We assist with the sizing and selection of components, ensure their availability meets your timeline, and we can be present for startup support upon request.
Power Packs Availability
A pre-engineered power unit fabricated from standard industrial-grade hydraulic components and accessories, Rexroth's fixed-displacement power pack brings with it a competitive price and a minimal delivery time. This design also means ease of maintenance and ready availability of replacement parts.
Pressures up to 3000 psi

Powder coated steel reservoir

System relief valve and gauge

Air/oil and water/oil heat exchangers

Fixed displacement external gear pumps

System relief valve and gauge

20 μ absolute in-tank return filter with integrated breather, fill cap and visual indicator

Pressure relief valve

Visual pressure gage
Visual fluid level indicator with thermometer

Check valve in pressure line

In-tank return down line

Optional electrical level and temperature switch

Fluid level indicator with thermometer

Electric Motor

TEFC, 1750 rpm, 3 phase

Single phase is available with 1/2, 3/4 and 1 hp.
More Hydraulic Power Unit Solutions