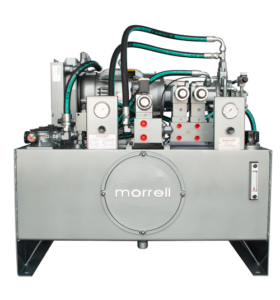 Morrell Group custom power units provide sustained value to save time and money throughout a power unit's lifetime by using quality components from industry-leading manufacturers. From pumps and motors to filtration and condition monitoring, Morrell Group has you covered. Our engineering team optimizes our custom hydraulic power units' designs to maximize performance while minimizing the machine footprint through innovative techniques such as reservoir optimization.
There are several design types available, all using superior technology:
DIN Horizontal

DIN Overhead

Vertical Non-Submerged

Vertical Submerged

JIC

L-Shape

Heavy Industry
Intelligently Engineered Solution
At Morrell Group, we leverage the industry and application experience of our team to determine the best solution on an application-by-application basis. By considering your system's operating parameters and your objectives, we custom engineer a power unit with quality components to meet your needs. Whether it is improving operating efficiency, energy savings, or reducing noise to improve operator conditions, we have a solution for you. We use the latest technology to design your hydraulic system and can provide 3D models upon request.
Quality Manufacturing Guaranteed with Morrell Group
Morrell Group utilizes the combination of components to meet your operating standards. The components are readily available thanks to our long-standing relationships with leading manufacturers. The unit is prepared to perform in the harshest operating conditions consistently.
Well-trained technicians manufacture Morrell Group custom power units, and each power unit completes a rigorous testing process to ensure its quality and performance meet the customer specifications. Our quality assurance test data is logged, so we have baseline performance data available for our customers. We utilize our automotive quality paint booth for customer-specified paint jobs.
Custom Hydraulic Power Unit Features
Reservoirs use high-strength heavy-gauge steel for ultimate durability

Reservoirs are engineered to reduce cavitation and aeration

Standard vibration dampening rail, sight gauge, and drain plug

High-strength flexible tubing

Base has feet to keep the unit off the ground and a drip tray to contain any spillage

Easy access clean-out for routine maintenance
Robust control cabinet

Premium cooler

Heavy-duty servo drive

Precision electrical sensors

Maintenance-free heat exchanger

Heavy-duty external filtration

World-class hydraulic manifolds
More Hydraulic Power Unit Solutions