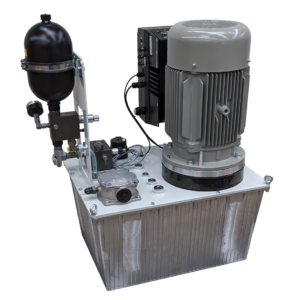 Machine builders are challenged with increasing raw material costs and demands from customers for more efficient, productive, modern machines and systems. KineSys is the modern motion control system from HYDAC designed with the best hydraulic and electromechanical components. KineSys is a fully parameterized plug-and-play unit. The variable speed drive (DVA) includes a drive motor that can be switched on and managed by integrated controls to work within required parameters. KineSys is a user-friendly, energy-efficient motor-pump unit ideally suited for small to medium-sized constant pressure systems. Depending on the machine cycle, users can see up to 70% energy savings.
How KineSys Works
HYDAC engineered the best features of hydraulic and electromechanical components together to develop the KineSys DVA-Kit. The high power density and robustness of hydraulics are coupled with the controllability and quietness of electromechanical components to control system speed and pressure. KineSys increases machine productivity, reduces noise emissions, and prolongs the service life of the components. The DVA-Kit also integrates safety functions and streamlines the overall system design.
As an Engineering Partner, Systems Integrator, and Value-Added Distributor (ESV), Morrell Group works with your team to understand your application parameters and performance goals. Our team takes this information and collaborates internally and with our vendor partners, using the latest sizing and simulation software to ensure the proper fit for your KineSys unit. We ensure all of the system components are correctly sized to meet your performance demands. Morrell Group also has a team available to assist with the integration of your new KineSys unit.
Features of the KineSys DVA-Kit
The pre-configured DVA-Kit from HYDAC includes a standard electric motor with a frequency inverter and an external gear pump. The variable speed drive system also consists of a hydraulic manifold with pump protection and an optional accumulator.
Available for power range 0.75 – 22 kW

Internal gear pump (optional)

Valve block can be flanged to the pump directly

Tank installation option with adapter block
KineSys Advantages
KineSys allows for the continuous operation of machines that require constant pressure. It successfully manages variable pressure and flow levels with integrated control algorithms. Users also have the option of integrating a variable speed accumulator charging circuit with a shut-off function for additional control. Variable-speed drives are considered energy-efficient because they only provide the required volume flow, reducing the hydraulic and electrical power required. A reduction in hydraulic volume flow and motor speed reduces noise from the system's fan and pump. In some instances, a drive train can be turned off entirely if there is no demand.
More Hydraulic Power Unit Solutions