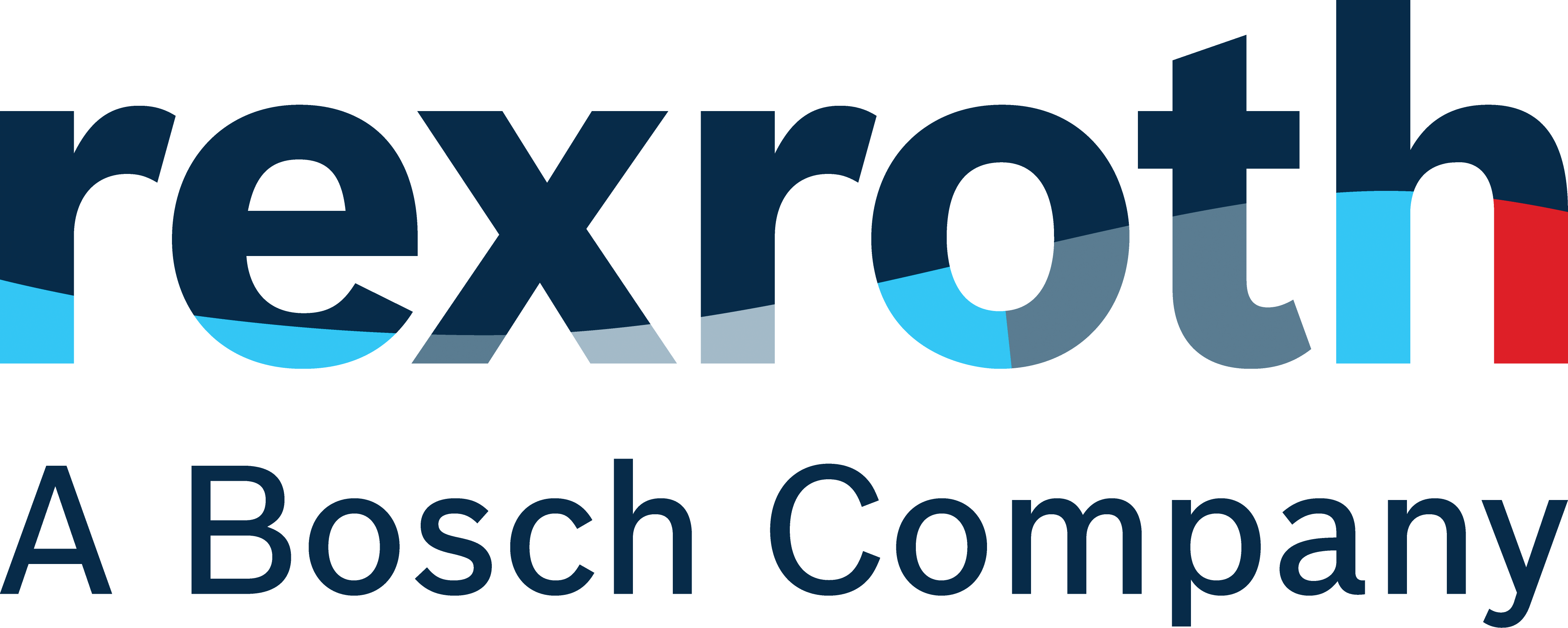 Bosch Production Air Tools for Industry Applications
Bosch Rexroth offers a full line of lightweight and robust air tools for everyday use in all industrial applications in high-production locations. These Bsoch Rexroth tools are driven by compressed air, which provides several advantages over handheld. The pneumatic rotary vane motor in these air tools enables the tools to spin and conduct mechanical work without risking burnout, which can occur with electric motors. Bosch Rexroth air tools also reduce maintenance and overhead costs with their modular design, and they share many of the same air motors, housings, and clutches that other Bosch Rexroth tools have.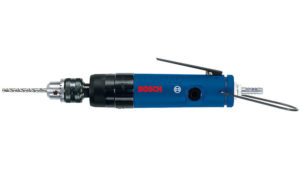 Drills
Rotate in forward direction only
Polyamide housing reduces weight and provides operator comfort
Excellent performance/weight ratio
Air motor provides long run times without overheating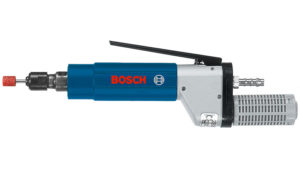 Straight Grinders

Powerful 3/4 hp speed regulated motor
External silencer
Narrow housing provides comfortable grip
Narrow nose allows good clearance in tight areas
1/4" or 6 mm collet available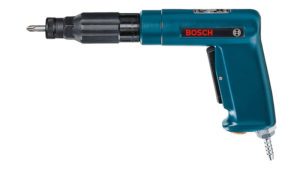 Tapper & Lockover Wrenches
Controllable tightening torque makes them suitable for every application
Can be switches from left-hand rotation to right-hand rotation with one hand
Exceptional lifetime and performance
Rotary Hammers

Impact and abrasion-resistant polyamide housing
SDS Plus tool holder
Depth gauge
Auxiliary handle
Drill capacity of 3/4" in concrete
Powerful 0.93 hp motor
Variable speed switch
Perfect for wet locations where electric tools cannot be used
Motors
Modular design suitable for many applications
CLEAN motors require no oil and provide extremely long run times in harsh environments
Able to provide constant speed
Unlimited application due to wide range of accessories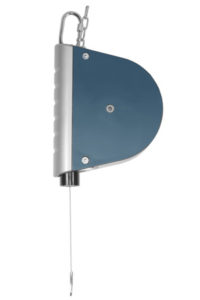 Accessories
Perfectly coordinated with Bosch production air tools and applications
Cable balancers
Hose pull balances
Accessories for drills, straight grinders, screwdrivers, wrenches and motors
CLEAN Technology
This Bosch air tool line includes air motors with CLEAN technology and accessories for a complete solution to your application requirements. CLEAN is an acronym for several technical features of Bosch's air tools and motors:
Consumption Optimized
Lubrication Free
Ergonomic
Air Tool
Noise Reduction
CLEAN technology protects the tool, user, and environment by removing the need for automatic oilers and reducing air consumption and tool noise. Save costs and time with CLEAN motors, as they never need oil. In addition to lowering tool air consumption by up to 30 percent, CLEAN technology also reduces overhead energy costs, and it reduces tool noise by several decibels (depending on application). CLEAN technology saves you money, energy, and repair time while also improving employee-working environments by reducing noise and air pollution.
Benefits of Bosch Ergonomic Design
Bosch tools run smooth, are lightweight and quiet. Their polyamide housing, made from fiberglass-reinforced plastic, provides a number of benefits, including:
Insulation against extreme temperatures
Maximum grip comfort
Light, rigid and virtually unbreakable
Saves up to 40% in total tool weight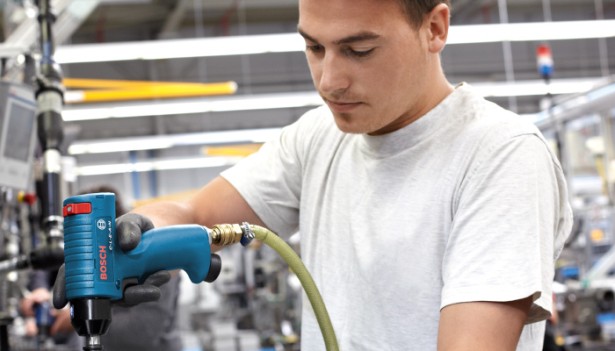 Bosch Shut-off Clutch Advantage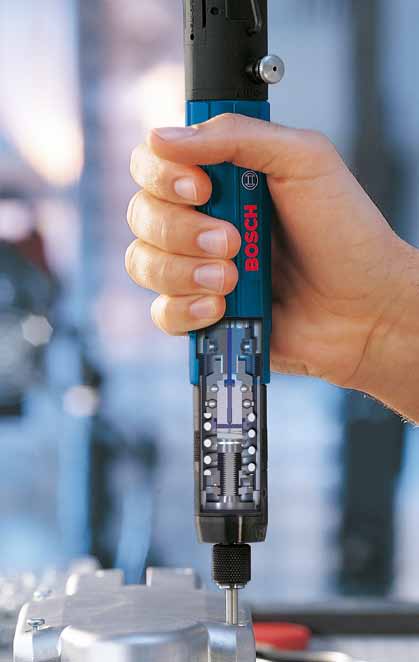 Precision shut-off clutch:
Cmk rating above 1.67 at Tolerance +/- 10%
Accuracy rivals DC nutrunners, which cost 10 times more
Quality conforms to ISO 5393
Most accurate clutch in the industry
Excellent torque control:
Easy external torque adjustment
Reverse torque is higher than in forward rotation, which helps in the removal of a tightened fastener
Broad torque range from 0.6 to 15 Nm (0.44 - 11 Ft. - Lbs.)
Service-friendly:
Clutch has few parts for easy service
Modular design minimizes spare part inventory
Clutch is shared by many air and cordless tools
Patented design is virtually wear-free; lasts for millions of cycles before wear occurs
Bosch provides a 10-year guarantee for all spare parts for years of customer maintenance concerns.
For more technical information on Bosch's Production Air Tools, visit Bosch's online resources here.
Schedule your product demonstration today!
Please fill out the form, give us a call or send us an

e-mail

. We can't wait to hear from you!
248-373-1600
More Tightening Solutions